The curators of the new Oregon Rocks exhibit at Oregon Historical Society knew they could not cover all Oregon music history, so they concentrated on the history of Oregon rock. Where did Courtney Love and The Dandy Warhols come from?
Go find out.
When you get back, here's some movies which feature Oregon musicians: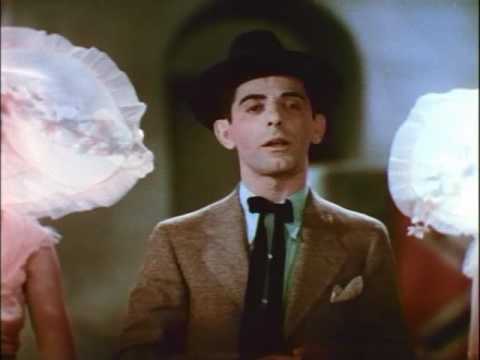 1. Whoopee (1930) George Olsen and His Music
Born and raised in Portland, George Olsen was discovered in 1923 and brought to Broadway where he wasted no time becoming a huge star. How huge? Whoopee, an early color film and an early sound film, was such an enormous financial gamble that Samuel Goldwyn had to make sure he had a sure fire draw on the soundtrack. His solution was a one two punch: Eddie Cantor PLUS George Olsen. It is Olsen's band you hear all throughout Whoopee.

2. Three Little Pigs (1933) Pinto Colvig
Pinto Colvig's early career as a newspaper cartoonist kept getting stalled because he was prone to leaving with the circus every time it came to town. Born and raised in Jacksonville, Oregon, Pinto had his own career as an animator before going to work for Disney. He is sometimes given credit for helping write "Who's Afraid Of The Big Bad Wolf?", the song which got the country through the Great Depression. Everyone agrees that he sang it, as the voice of Practical Pig.  Like Mel Blanc, Pinto Colvig's first identity as an artist was as a musician. He is most famous for providing the voice of Goofy.

3. Born To Dance (1936) Del Porter
Del Porter, born and raised in Newberg, Oregon, was a singer, composer and arranger. He came to Hollywood as a member of the stupendously well behaved, ocarina playing quartet, The Foursome.  In Born To Dance, they back up Eleanor Powell. He left Hollywood as a founding member of Spike Jones' musically anarchic City Slickers. Del Porter belongs on this list not because of the size of his contribution to Hollywood, but because of the size of Hollywood's contribution to him. If he hadn't gone to Hollywood, there would have been no City Slickers. And he might have spent his entire life playing the ocarina.

4. Gone With The Wind (1939) Louis Kaufman
Louis Kaufman's parents were so disoriented by the prodigious gifts of their musical son that they sent him out on a six month tour of the vaudeville circuit at age ten. They came to their senses and sent him to Julliard three years later. Kaufman moved to Los Angeles because he liked the sun, and thought he would make his living teaching violin. Hollywood had other plans for him, and you can hear him now in over 400 classic Hollywood films. That's him playing Tara's Theme. Louis Kaufman was born and raised in Portland, Oregon.

.
5. There's No Business Like Show Business (1954) Johnnie Ray
Much to his own astonishment, which he does little to conceal, Johnnie Ray's film debut took place alongside Mitzi Gaynor, Marilyn Monroe, Ethel Merman and Donald O'Connor. Awestruck and ill at ease, he looks exactly like what he is, a singer waiting, waiting, waiting for a chance to sing. Hollywood took note and never asked him to than play anything other than himself, ever again. Born in Dallas, Oregon, and raised in Hopewell and Portland,  Johnnie Ray crossed racial lines to embrace rhythm & blues, and in so doing paved the way to rock. A colossally original talent, Ray was partially deaf, and performed wearing his hearing aid.
Want more? Next Top Five Movies To See After You Get Back From Oregon Rocks @ OHS