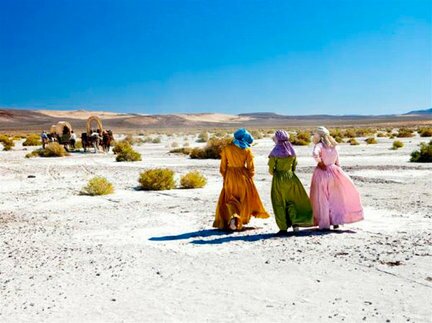 Pittsburgh has George Romero, Baltimore has John Waters, and Boulder has the memory of Stan Brakhage.
Portland has Gus Van Sant, Bill Plympton, Matt Groening, Mike Richardson, Jon Raymond, Aaron Katz, Chel White, Jacob & Arnold Pander, James Westby, Jim Blashfield, Joan Gratz, Joanna Priestley, Matt McCormick, Rose Bond, Vanessa Renwick and Will Vinton.
Ever wonder why?
For cities wishing to replicate Portland's densely populated cinematic scene, here's a handy "how to" guide.
1. Start early.
As soon as people were making films in New York and Fort Lee, they were making them in Portland. Portland's first film studio, American Lifeograph, opened in 1910. That's the same year movies came to Hollywood.
2. Have a show business friendly mayor.
During the 16 year tenure of theater-owner-turned-mayor George Baker, downtown Portland was wall to wall theaters. John Gilbert, Clark Gable, William Powell, Edward Everett Horton and Eugene Pallette are some of the actors who jumpstarted their acting careers on the Portland stage, some of them in Baker's own stock company. It was Baker who renamed Seventh Avenue "Broadway".
3. Support innovation.
Oregon's oldest source of print media, The Oregonian, responded to the puzzling new medium of radio by setting up a station, KGW, right in their own building, the Oregonian Tower. Radio later served as an Early Warning System to identify the talent of Portlanders-gone-Hollywood Mel Blanc, Suzanne Burce (renamed Jane Powell by MGM) and Johnnie Ray.
4. Grow your own film processing lab.
After WWII, Portland inventor Frank Hood went to work for a brand new electronics firm (originally conceived as a radio supply store) named Tektronix. He processed films he made for them, after losing patience with the delays of sending films to out of town labs. Eventually, he went into business as Teknifilm Lab. A filmmaker himself, he acted as teacher and mentor to customers. More important to the development of independent filmmaking in Portland: Hood's lax attitude toward payment schedules, which subsidized generations of Oregon artists working in film.
5. Provide a home for an exiled Hollywood film scholar.
Andries Deinum came to Portland during the blacklist. His vision of film as a mode of social discourse laid the groundwork for PSU's Center For The Moving Image, housed in Lincoln Hall. Jim Blashfield, Bill Plympton, and Matt Groening were among the faithful attendees of the Center's influential screening series, run by the Portland State Film Committee.
6. Provide a day job for the guy who wants to mentor the guy who wants to revive the archaic art form of stop motion animation.
Homer Groening led a dual life – ad man by day and experimental filmmaker by night. He had a family, a home, and his own business doing what he loved – and he did it all without leaving Portland. Aspiring filmmaker Will Vinton paid attention, and followed suit. His career, like Groening's, would encompass both television commercials and art house films, but on a much larger scale.
7. Work with, not against, a pair of cinema addled students who want to start a regional film center.
When Sheldon Renan succeeded in persuading National Endowment for the Arts to seed regional filmmaking, they went looking for the right person to submit a grant for a film center in Portland. They were pointed to Brooke Jacobson and Bob Summers, members of the Portland State Film Committee. Brooke and Bob wrote the grant, Portland Art Museum acted as fiscal sponsor, and the Northwest Film Center went into business. This year marks its 40th anniversary.
8. Work with, not against, a visionary film preservationist who wants to create a moving image archive.
Lew Cook was trained as a newsreel photographer by the first generation of Portland filmmakers. His stop motion film, The Little Baker, made circa 1925, proved prophetic when it came to Portland's future claim to cinema history. He and Thomas Vaughn conceived Oregon Historical Society's moving image archive, and Cook personally trained the preservationist, Michele Kribs, who currently presides over it.
To re-cap: by the end of the 1970's, Portland had a film program at Portland State University, a film archive at Oregon Historical Society, and a regional film festival (now the NWFF) located at Portland Art Museum. That nucleus of film creativity on the park blocks was balanced by a film processing lab, an emerging animation studio, and a warehouse waiting to be filled with filmmakers' offices over in northwest Portland. No one entity owned the scene – the infrastructure and the support system served all comers.
The following timeline concentrates on factors which contributed to a culture where independent filmmakers supported each other in Portland. It does not address the important role played by Hollywood productions shooting in Oregon. The symbiotic role of Hollywood and the Indies in Portland is embodied in the career of Gus Van Sant who slips and slides with ease between these two worlds.
A timeline:
American Lifeograph founded 1910
Lewis Moomaw makes The Chechacos 1924
Lew Cook makes The Little Baker c1925
PGE makes It Can Be Done c1936
Tektronix founded 1946
Frank Hood founds Teknifilm Lab, early 1950's
Andries Deinum arrives 1957
Homer Groening starts his own ad agency 1958
Center For The Moving Image founded 1965
Bob Summers and Brooke Jacobson found Northwest Film Center 197o, with a push from Sheldon Renan
Tim Smith and Matt Groening make Drugs: Killers or Dillers 1972
Ron Finne, Tom Taylor and Brooke Jacobson found Northwest Media Project 1974
Will Vinton and Bob Gardiner make Closed Mondays 1974
Don Zavin makes Fast Break 1977
Penny Allen makes Property 1977
Rose Bond makes Gaia's Dream 1982
Gus Van Sant makes Mala Noche 1985
Bill Plympton makes Your Face 1987
Matt Groening makes The Simpsons 1987
Jim Blashfield makes Leave Me Alone 1988
Joan Gratz makes Mona Lisa Descending A Staircase 1992
Gus Van Sant makes Good Will Hunting 1997.
Vanessa Renwick makes The Yodeling Lesson 1998
Miranda July makes The Amateurist 1998
Chris Eyre makes Smoke Signals 1998
Will Vinton makes The PJ's 1999
Travis Knight makes Coraline 2009
Jon Raymond writes & Neil Kopp produces Meek's Cutoff 2010, one of five Oregon films at Sundance in 2011.
This post is dedicated to Portland filmmaker/film writer David Walker, who inspired it by raising the question "how rare is regional filmmaking, anyway?"