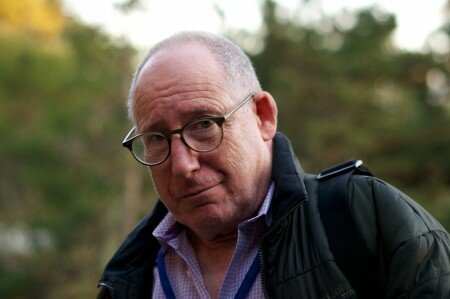 .
When National Endowment of the Arts put Sheldon Renan on a funding panel in 1970, he wasted no time persuading them to fund a network of four regional film centers. 40 years later, all four – including Northwest Film Center – are still going strong. After a lifetime of reading, writing, producing, directing, watching and just plain loving film, he currently writes and consults about the importance of connectivity. Sheldon Renan grew up in Oregon City and graduated from Cleveland High School in 1957.
.
Anne Richardson: When you went off to Yale, did you have any glimmer of a glimpse that you would become a filmmaker?
.
Sheldon Renan: No. I grew up on a turkey farm. My senior year we moved from Oregon City into Portland and I was three blocks from Reed College. I had a jazz program on the radio station, but the most important thing was every Friday night there were foreign film showings in the chapel.
.
Anne Richardson: You said you wrote An Introduction To The American Underground Film because you had seen all the movies. You were inspired by the lack of a guide, because one didn't exist?
.
Sheldon Renan: It was a combination of things. I'd seen alot of the movies. Andy Warhol had asked me to write a book about him. It was just a sense that there needed to be a book. I got into the Junior Council at the Museum of Modern Art just when they were doing an exhibition of underground film, their first one. Willard Van Dyke was taking over as director and I think I claimed I was doing a history of and introduction to underground film. It just popped out of my mouth. What often happens is that I tell a lie, and then it sounds like a good idea. So I go ahead and do it.
.
Anne Richardson: And it changed everything.
.
Sheldon Renan: In 1968, I was in New York to meet Henri Langlois, and there was a knock on the door one morning, and a butler was standing there, holding a plate with a top on it. He said "Is Sheldon Renan here?" He lifts the top off the plate, and it was an invitation to have lunch at a mansion across the street. So I go to the lunch and there's Jean DeMenil (CEO of Schlumberger, an international oil fields equipment company), Henri Langlois, Simone Swan, and, to my amazement, Francois Truffaut and Fritz Lang. I was so upset I popped a button off my suspenders. Literally in front of Truffaut and Lang, I had to have my button sewed back on. So I asked Fritz if he would come out (to Berkeley's Pacific Film Archives) and do a film series. I was trying to write my first script at the time and Fritz kinda became my coach.
.
Anne Richardson: So your primary identity is as a writer.
.
Sheldon Renan: Yes. Its too complicated to explain that I sometimes produce and sometimes direct. I never know what I am doing until the phone rings.
.
Anne Richardson: When you were at the NEA, your main input was "I don't think it (federal funding for film) should all go to American Film Institute."
.
Sheldon Renan: I wanted to create something for everybody because if it wasn't for everybody I would be excluded. I'm doing what I do about film and filmmaking so that people won't have a hard time finding their way into the kitchen the way I had.
.
Anne Richardson: Thank you, Sheldon.
.
More about Sheldon Renan:
.
What keeps his interest these days
His place in Portland film history