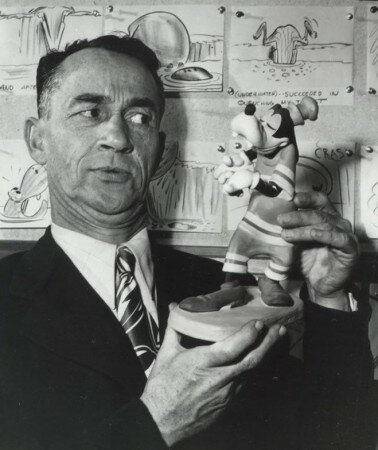 Vance DeBar "Pinto" Colvig, with Goofy
Pinto Colvig may be the first Oregon animator.
Inspired by the commercial and artistic success of Oregon cartoonist Homer Davenport (1867-1912), Pinto Colvig began by cartooning for newspapers. He moved from cartooning to animation, a transition Homer Davenport would have made if he had lived long enough. Only five frames survive of Pinto Colvig's 35mm feature length animated film, Creation, made in San Francisco in 1915.
That's the year D. W. Griffith made Birth Of A Nation.
That's the very sunrise of cinema.
On October 12, Oregon Cartoon Institute and Portland ASIFA partner up to bring Medford historian Ben Truwe to Portland to tell us more about this forefather of Oregon animation and cartooning.
The following timeline is taken from Ben Truwe's webpage about Pinto Colvig.
1892 Born in Jacksonville, Oregon
1899 Dances the cakewalk on Jacksonville stage
1905 Performs as a musical clown on the street in Portland during the Lewis & Clark Exposition
1906 Fails admission exam for high school, instead hangs out with Frank Willeke, the Medford Main Street railroad flagman, whose voice and personality he would later adapt for the character Goofy
1910 Enrolls at Oregon Agricultural College (now OSU) in Corvallis
1915 Directs the early (some say the first) feature length animated film Creation (lost film) in San Francisco
1919 Directs early color animated film Pinto's Prizma Comedy Revue (lost film) in San Francisco
1930 Begins working as a writer for Walt Disney
1932 Voices Goofy in The Whoopee Party, continues to voice Goofy for decades
1937 Voices Sleepy and Grumpy in Snow White
1939 Voices Gabby in Gulliver's Travels
1946 Voices Bozo the Clown for Capitol Records, records which make more money than God
1967 Dies in Los Angeles
Here's how much Walt Disney admired Pinto Colvig – he modelled his official Walt Disney logo after Pinto's own rounded signature, which you can see below.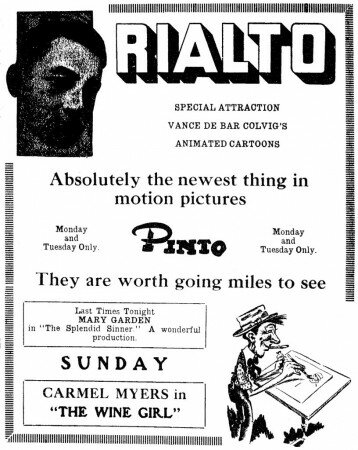 Ben Truwe will illustrate his talk with film clips and photos, and will read an excerpt from Pinto's unpublished autobiography. Bring your questions – Oregon Cartoon Institute believes in audience Q & A.
More About Goofy: Pinto Colvig, Oregon Animation Pioneer is presented by Portland ASIFA and Oregon Cartoon Institute The evening is free for members of Portland ASIFA and for students. For non-members and non-students, admission is $3.00.
More About Goofy: Pinto Colvig, Oregon Animation Pioneer takes place at 5th Avenue Cinema, 510 SW Hall Street, Portland, Oregon at 7:00 PM on October 12.
On Facebook: https://www.facebook.com/events/234922229992860/