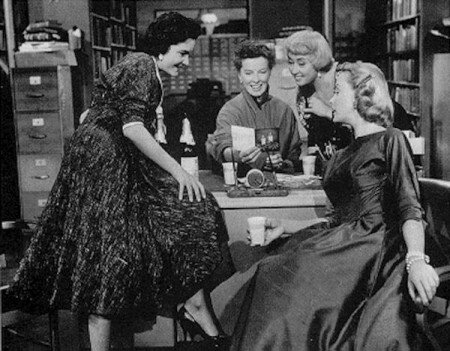 Not all Oregon film historians are women, but this first group was. Left to right: Heather Petrocelli, Anne Richardson, Ellen Thomas, Rose Bond. Not pictured: Michele Kribs, unavailable because she was out riding her motorcycle.
Dateline: 2033, 20 years from now.
The Oregon Film History Initiative celebrated its 20th birthday today by blowing out candles on 20 virtual cakes scattered throughout the state.
Founded in 2013 by a group of librarians and historians, OFHI's original mission was to ensure that key documents and artifacts essential to a full understanding Oregon's unique film history were successfully archived within the state.
The Initiative began unofficially with the acquisition of James Ivory's papers at the U of O. A trickle of film scholarship triggered by Richard Herskowitz's 2013 James Blue Tribute turned into a steady stream. Portland's silent film industry, Oregon's McCarthy era Westerns, Godard's trip through the Pacific Northwest with Jon Jost in 1972 – books on these subjects transformed public understanding of the intersection between Oregon film history and American film history.
Few can remember the time before a full length biography of Portland musician Melvin Jerome Blank, aka Mel Blanc, radically re-positioned pre-Portlandia Jazz Age Portland as an engine of American pop culture, and launched a new cultural tourism industry.
Oregon Film History Initiative brought together a truly diverse set of stakeholders. While UO collected papers of Oregon filmmakers, Oregon Heritage Commission, in cooperation with Travel Oregon and Oregon Cultural Trust, supported the restoration of downtown theaters in rural Oregon towns.
NWFC continued their trademark events. Lewis & Clark began a media literacy summer school for teachers. UO, working in partnership with Oregon Cartoon Institute, began hosting an annual Oregon film history conference. OCI secured a digital humanities grant to tell the story of Lew Cook, Homer Groening, and Frank Hood, three WWII vets whose passion for 16mm filmmaking would re-ignite Portland's independent film scene.
Meanwhile, the Initiative's popular annual fundraisers provide homesick Oregon film artists in LA and NY an annual reason to fly home for a visit.
Virtual candles for the 20th birthday celebration were blown out in Salem, Astoria, Eugene, Pendleton, Cottage Grove, Joseph, Grants Pass, Bend, Baker, Klamath Falls, Jacksonville, Oregon City, McMinnville, Sandy, Brownsville, Corvallis, and all four quadrants of the city of Portland.