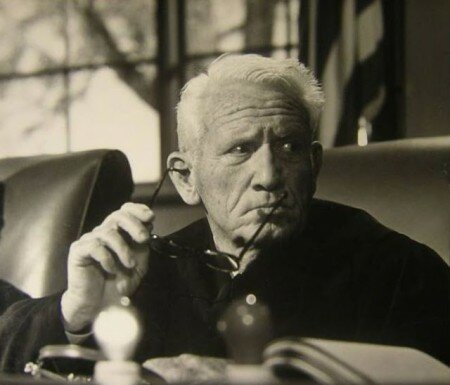 Spencer Tracy was Oscar nominated for his role as Chief Judge Dan Haywood, a fictionalized character based on James T. Brand, the Oregon judge who actually presided over the Justices Trials at Nuremberg in 1947.
James T. Brand was Associate Justice of the Supreme Court of Oregon when he was tapped to travel to post -war Germany to conduct the trial of German judges who had cooperated with the Nazi regime.
From an obituary of James T. Brand:
James Tenney Brand, 77, retired Chief Justice of the Oregon Supreme Court, died on February 28, 1964, in Phoenix, Arizona, where he and his wife were vacationing. Justice Brand was born in Oberlin, Ohio, on October 8, 1886, where his father, a Congregational minister, was Oberlin College chaplain. In 1914 he received the LL.B. degree from Harvard University, and in 1916 he married the former Irene Morley, of Cleveland.
Following early private practice Justice Brand's life became increasingly one of public service. He was city attorney of Marshfield, Oregon. In 1927 he became circuit judge in the Second Judicial District in Oregon. In 1941 he was appointed a justice of the Oregon Supreme Court and was Chief Justice, 1951-58. As a Supreme Court judge he participated in a number of important decisions. In 1947 Willamette University awarded him the Honorary Doctor of Laws Degree.
That same year he was appointed a judge in the war crimes trials in Nuremberg, Germany, and through much of the trial period he was the presiding judge. In Oregon he was a member of a gubernatorial committee to study improvement of the State's judicial system. He earned distinction in the fields of constitutional and international law.
Following retirement from the Oregon Supreme Court in 1918, he taught constitutional law for three years at Stetson University in Florida. He also lectured in jurisprudence for a time at the University of Oregon. He was president of the Oregon Bar Association, 1934-35, and had served as a director and president of the Coos Bay National Bank. He served both Oberlin College and Reed College as trustee. He contributed significantly to many professional journals and wrote frequently for the Portland Oregonian as an editorial columnist.
James T. Brand joins an elite group of Oregonians who have inspired characters in films.
I hereby claim Judgement At Nuremberg as an Oregon film, based on the role James T. Brand played in inspiring the character of Dan Haywood, played by Spencer Tracy.