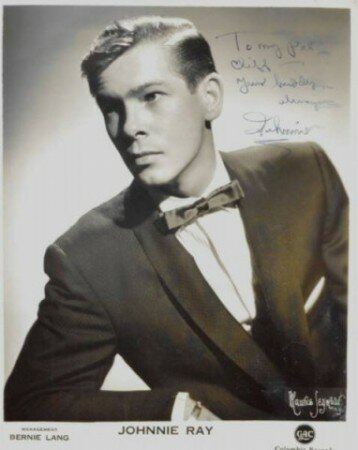 Johnnie Ray was one of the first to make me really open my ears. That was like 2 or 3 years before Elvis. -Rolling Stone Bill Wyman
Johnnie Ray was born in Dallas, Oregon in 1927. He wrote The Little White Cloud That Cried, his first hit, while a teenager in Oregon. In December 1951, after serving an apprenticeship in a Detroit night club, he recorded that song for Okeh Records in New York. It went to the top of the charts.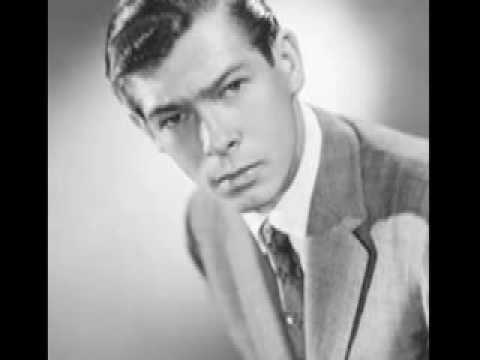 From fansite www.johnnieray.com: The executives at Capitol Records heard a Johnnie Ray demo record and thought the vocals were by a black female blues artist. Johnnie was thought at first by the radio listening audience to be a black blues singer, but soon it was revealed that he was a tall, thin, very fair complected, handsome boyish looking man of 24. Johnnie's first Okeh release was a quick Detroit recording of "Whiskey & Gin", a stomping R&B number, and "Tell The Lady I said Goodbye", a torchy ballad, both recorded May 29th, 1951, possibly in a radio station, with Maurice King and the Wolverines.
Ray skyrocketed to the top despite multiple challenges. A childhood accident left him deaf in one ear. He came out in public as a deaf person by wearing his hearing aid on stage but was unable, due to the times in which he lived, to come out as a gay man. He battled alcoholism.
Polite and soft spoken in person, on stage Ray was a physically uninhibited performer who prowled the stage, manhandled the microphone, threw himself on the floor, and attacked the piano as Jimi Hendrix would later attack his guitar.
A more sedate version of Ray's stage persona is seen in There's No Business Like Show Business (1954). His singing provides the only honest moments in that enormous, greedy, gaudy turkey.