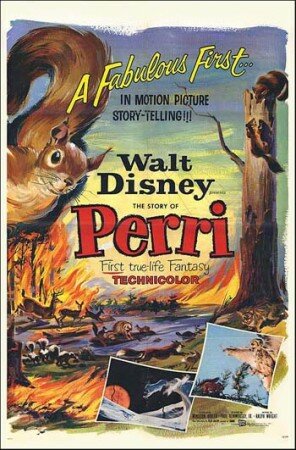 Ralph Wright's Perri (1957) won the Golden Bear at the 1958 Berlin International Film Festival, making Ralph Wright Oregon's first internationally recognized filmmaker.
Imports:
Bend Of the River 1952 (Anthony Mann, Jimmy Stewart) Shot on Mt. Hood.
The Lusty Men 1952 (Nicholas Ray, Robert Mitchum) Scenes shot in Pendleton.
Drum Beat 1954 (Alan Ladd, Charles Bronson) Scenes shot in Southern Oregon.
Indian Fighter 1955 (Andre de Toth, Kirk Douglas) Shot in Central Oregon.
Tonka 1958 (Sal Mineo) Shot in Central Oregon.
Day Of The Outlaw 1959 (Andre de Toth, Burl Ives) Shot in Central Oregon.
Exports:
There's No Business Like Show Business 1954 (singer Johnnie Ray)
Seven Brides For Seven Brothers 1954 (singer Jane Powell)
Oklahoma! 1955 (dancer Gene Nelson)
The Incredible Shrinking Man 1957 (cinematographer Ellis Carter)
What's Opera, Doc? 1957 (voice artist Mel Blanc) one of many, many WB cartoons voiced by Blanc in this decade
Perri 1957 (writer-director Ralph Wright)
Venice: Theme and Variations 1957 (writer-director James Ivory)
The Seventh Voyage of Sinbad 1958 (writer Ken Kolb)
Sleeping Beauty 1959 (composer George Bruns)
Tarzan's Greatest Adventure 1959 (actor Gordon Scott)
That's not all!
Portland served as setting and inspiration for:
Portland Expose 1957 (Harold D. Schuster)
The Day Called X 1957 (Glenn Ford, The People of Portland)