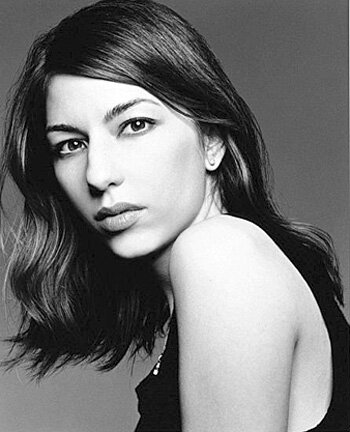 From the Oscar Watch Archives. Warning: no Oregon connection whatsoever.
Tonight Sofia Coppola goes head to head with Clint Eastwood. Her LOST IN TRANSLATION, "the little art house movie that could", may chug past MYSTIC RIVER and the rest of the competition to win Best Picture. Without help from a ship, a slum, a sex crime, or a cast of thousands of computer generated supernatural beings, Coppola may earn the title Best Director. In MYSTIC RIVER, Sean Penn loses a daughter and kills a friend. In LOST IN TRANSLATION, Bill Murray sings karaoke and calls his wife. Both performances earned Oscar nominations. In addition to the categories of Best Picture, Best Director, Best Actor, all of which pit Coppola against Eastwood, Sofia Coppola's script for LOST IN TRANSLATION has been nominated for Best Original Screenplay. That, my friends, is what you call a sweep.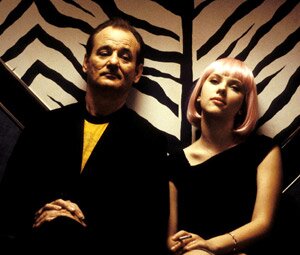 Who ever thought we would see the day?
No American woman has ever stood shoulder to shoulder with four men on Oscar night, waiting to find out if she has been dubbed Best Director. The very last thing I expected to hear on this historic occasion was stone silence. But then again, for those of us who have been keeping an eye on the progress women make across the checkerboard of ambition, luck, art and commerce we call Hollywood, this conversational vacuum has some precedent. We prefer to underrate Sofia Coppola's achievement, because to acknowledge the odds she worked against is too dreary a task.
It is hard for women to make movies. This is a statement of fact – not a judgment. Year after year, women bring screenplays to Hollywood only to have them thrown back in their faces from across the desk. Year after year, women are told that their scripts lack every single element which make a movie watchable. It is against this backdrop – the perception that women make boring movies – that the size of Sofia Coppola's ambition is revealed. She was gunning for greatness the minute she chose for her second feature the story of a neglected wife who doesn't have an affair. This is fearless filmmaking. The very inconsequentiality of the plot represents a triumphant chapter in the history of women in film. Coppola has retroactively redeemed the career of every female director whose films never found audiences because they were too gentle, too soft, too quiet, or too strange. LOST IN TRANSLATION flaunts all of these "faults" . Now these films weren't failed films. They were merely before their time.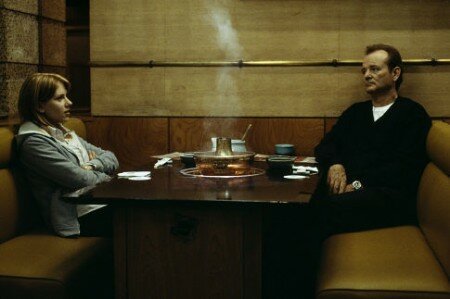 Coppola has made it safe for women to make films without car crashes, without sex, without a video game tie in. She has made it safe for women to end their movies on a whimper, not a bang. In a word, she has made it safe for women to make the sort of movies they have been making all along, ever since Eve picked up a camera. This is her achievement: not just that she has been nominated for Best Director, but the film she has been nominated for is so unmistakably, unapologetically, female.
Is there such thing as female filmmaking? You tell me. Sofia Coppola is competing against four male directors whose films star, respectively, three men, two men, two hobbits, and one incredibly put upon Brazilian kid. There are no women in leading roles. Women are the daughters, wives, sisters, mothers, girlfriends, and supernatural advisors of the male leads. If you have a hard time visualizing what it was like back when every single ticket sold in this country admitted you to a movie made by a man - a world I grew up in – well, this is it.
I apologize in advance for the nightmares I am sure this brutally reductionist form of film criticism will give younger readers, who have never encountered it before.
Perhaps the lack of hoopla attending Sofia's canonization as Dirty Harry's directorial equal is that people were expecting something else. They had previsualized the film which would win the first woman director these honors, and it didn't start with close up of the heroine's butt. It didn't star a woman whose existential crisis was so, well, unappealingly ordinary. It didn't wander quite so haphazardly, and it didn't display such cool confidence as it did so. But that's the film Sofia made, that's the film which has snuck under the fence, that's the film which has won umpteen awards and counting. Its not THE GODFATHER IV, its not MY BRILLIANT CAREER, PART TWO: EVEN MORE BRILLIANT, its not VICTORIA WOODHULL: THE MUSICAL. It's the story of two bored strangers, a woman and a man, who owe each other nothing but the truth. If you are one of the people who are affronted by young Sofia's sudden leap to cinematic mastery, get over it. Yes, she is a second generation filmmaker. She is in two senses: she was born a Coppola and she grew up seeing films made by women. It takes nothing away from her achievement to acknowledge these facts. Sofia Coppola deserves full credit for LOST IN TRANSLATION.
But she didn't make it in a vacuum. On the chance that tonight we won't get to hear Sofia do this in an acceptance speech, I am going to thank some of the filmmakers whose influence can be seen in LOST IN TRANSLATION.
First, a shout out to Nicole Holofcener. The moody, searching, sourpuss played by Scarlett Johannsen in LOST IN TRANSLATION owes much to the heterosexual tomboy heroines of Holofcener's two anti-romantic comedies WALKING & TALKING and LOVELY & AMAZING. Both WALKING & TALKING and LOVELY & AMAZING feature a female protagonist in a more or less permanent bad mood. I don't know if that heroine has existed before Catherine Keener and Nicole Holofcener brought her to the screen. Holofcener's quiet, odd films are terrific examples of movies in which "nothing happens".
A second big thank you goes out to Lisa Krueger. Who? Lisa Krueger, the writer-director of MANNY & LO, a wonderful 1996 film which was seen, apparently, by no one but Sofia Coppola and myself. Like Holofcener, with whom she shares the artistic attribute of relentless originality, Krueger was willing to toss genre out the window. Coppola followed her down this road. Second, Krueger gave Coppola her leading lady. MANNY & LO was Scarlett Johannsen's first leading role. Sofia never forgot the strength of that performance, and never had any other actresses in mind for the role of Charlotte.
The last filmmaker who gets a shout out: mom Eleanor Coppola, documentary filmmaker.
Thanks, Eleanor! Whether or not Sofia wins any of the four potential Oscars attached to her film, your daughter now has made film history. I have no idea why she has not been accorded the hero's welcome she deserves, the tickertape parade of the size she deserves.
I write this appreciation more as a historian than as a fan, since I do not particularly like LOST IN TRANSLATION. I am the person who was left out of the story, the character we never saw — the wife. For those of us who actually do make pasta, bear children, and buy carpet samples, a film about a husband drawing spiritual succor from a random overseas encounter with a woman half his age can be very trying. But just because LOST IN TRANSLATION did not speak to me does not mean I don't recognize when I am standing in the shadow of greatness. I understand when something of moment is going on. When Francis Ford Coppola's little girl makes a commercial success out of a love story so slight it makes BRIEF ENCOUNTER look like a bodice ripper, old Hollywood paradigms are going to creak and fall.
Sofia's critics have it all wrong. The great filmmaking feat performed in LOST IN TRANSLATION wasn't getting dad to foot the bill. It wasn't standing back and allowing Bill Murray to be a genius. Sofia did something far more difficult. Whatever else you can say about a film in which a self-absorbed twenty-something hangs around with a self-pitying drunk twice her age, you can't say it isn't a film where Sofia Coppola hasn't plumbed the depth and range of her own life experience. It is. She has. It sounds as if I am making a criticism – I am not. I am grateful I have lived to see this day. Sofia Coppola used everything she knew about film to tell a story in which the heroine is not in relationship to the hero as his daughter, wife, sister, girlfriend, mother, or visiting representative of a fairy kingdom. It brought Hollywood to its knees. As far as I'm concerned, no matter who wins the Oscars, tonight belongs to her.