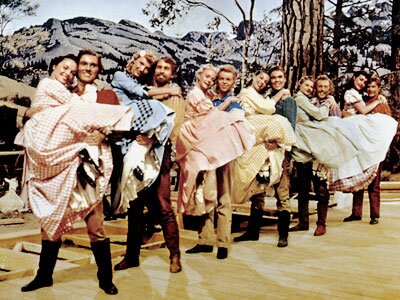 Seven Brides For Seven Brothers was set in an Oregon logging camp, with Oregonian Jane Powell as a lead, but not one inch of it was shot here. The only known musical version of Livy's Rape Of The Sabine Women, it was made at MGM in 1954.
It was only after seeing a number of logging films, and reading about even more than I could see, that I was able to figure out that there is a movie genre dedicated to the lives of lumberjacks. Hollywood's most famous example is Come and Get It (1936), which has nothing to do with Oregon. But Oregon, with its mighty forests, does have a steady track record with this genre.
The Valley Of The Giants (1919)
Rough Romance (1930)
Park Avenue Logger (1937)
The Forest Rangers (1942)
Lumberjack Rabbit (1954) 3D Bugs Bunny cartoon!
Seven Brides For Seven Brothers (1954)
Sometimes A Great Notion (1971)
Natural Timber Country (1972)
The Bed You Sleep In (1993)
Clearcut: The Story of Philomath, Oregon (2006)
If A Tree Falls: A Story Of The Earth Liberation Front (2011)
Letters From The Big Man (2011)
Oregon's logging industry produced one best selling journalist, Stewart Holbrook; one recording artist, Buzz Martin; one actor, Ty Burrell; and one literary fraud, Opal Whitely.
In 2009, Oregon Public Broadcasting produced The Logger's Daughter, based on the real life experiences of Gwen Trice, whose father traveled from the South to work in race segregated Oregon logging camps.
The most important contribution Oregon's logging industry made to the arts is James Ivory, whose father arrived in Klamath Falls from upstate New York (by way of Berkeley, California) to start his own company, Ivory Pine. Ivory recalls accompanying his father on trips to LA where his father negotiated with the movie studios to supply the lumber they used for back lot set construction.