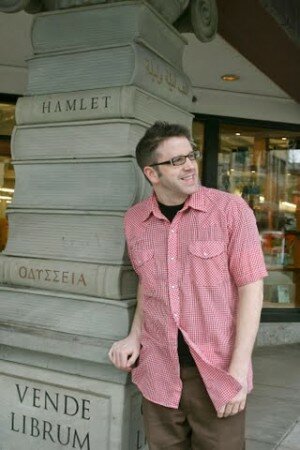 Vanessa's multiple hats! Preparing for Raw, Raccous & Sublime: 33 1/2 Years Of Vanessa Renwick, An Oregon Department of Kickass Retrospective, I learned she helped grow the Small Press section at Powells. I interviewed the current Powells employee in charge of that department, writer/publisher Kevin Sampsell, to find out more.
Anne: Do you remember first meeting Vanessa?
.
Kevin: It was right after I moved to Portland in the summer of 1992. I was in the early days of my own micropress, Future Tense Books, and I wanted to see if they'd sell some copies of my scrappy little chapbooks. She was running the section (with someone else) and she bought some of my stuff. A couple of months later, I came back in with new stuff and she remembered me and said she liked the bio in one of my chapbooks that said I wanted to someday be "Sassiest Boy in America." I thought that was funny but I think she was kind of serious and that was cool. I felt like I was taken seriously and like I was supported outside of my small circle of friends. That is a valuable feeling for any creative person to have. It encouraged me.
.
Anne: How large was Powells' Small Press section at that time?
.
Kevin: I remember it being tucked away in the cafe I think. It was kind of unorganized but vibrant. A lot of different kinds of things, from politics to poetry. It was maybe about 1,000 titles.
.
Anne: How big is it now?
.
Kevin: It's grown throughout the years and now it's a nice corner chunk of the Blue Room–latest estimation says nearly 2,000 different titles.
.
Anne: Do you think there is a connection between Vanessa's vision for the Small Press section at Powells and the eventual opening of Independent Printing Resource Center?
.
Kevin: She was definitely a trailblazer (no Portland pun intended) in that regard. When she left, Marty Kruse (RIP) took over the Small Press section for the next several years, and then when he left, I took it over. I know that other people in other cities opened up their own small press-minded bookstores after being influenced by Powell's section. I'm not sure if Chloe Eudaly and her friend Rebecca were inspired by the Powell's small press section when they opened the IPRC–they were also running Reading Frenzy–but Vanessa's work definitely helped to make Portland's burgeoning DIY writing scene what it is today.
.
Anne: How small press crazy/zine crazy is Portland?
.
Kevin: It's pretty crazy. For a city that's not huge, we have a lot of stuff going on and one thing I really think is great is that people in the zine scene here, or the literary scene in general, are really supportive of each other. We have a really exciting thing going on right now in this town–people starting out, people breaking through to bigger audiences. People are going to look back at this time and realize it was pretty extraordinary.
.
Anne: When you first met Vanessa, did you know she was a filmmaker?
.
Kevin: I learned that about her eventually. I think she invited me to some event where she showed a couple of her short films. I was really impressed by them. I was into stuff like Richard Kern and Karen Finley and I thought her work was in that same spirit. The first piece of journalism I ever published was an interview with Vanessa for Snipehunt, which was a legendary newspaper kind of zine in Portland for a while.
.
Anne: Now I want to read it! Thank you, Kevin.
==========================================================
.
More information about Kevin Sampsell at www.kevinsampsell.com.
.
More information about his small press is at www.futuretensebooks.com.
=========================================================
What: Raw, Raucous and Sublime: 33 1/3 Years Of Vanessa Renwick, An Oregon Department Of Kickass Retrospective, presented by Oregon Movies, A to Z.
Where: Hollywood Theatre, 4122 NE Sandy Blvd, Portland, OR (503) 281 -4215
When: April 25 & 26, 7:30 PM.
Plus: Filmmaker in attendance!
Facebook: https://www.facebook.com/events/513729408679513/