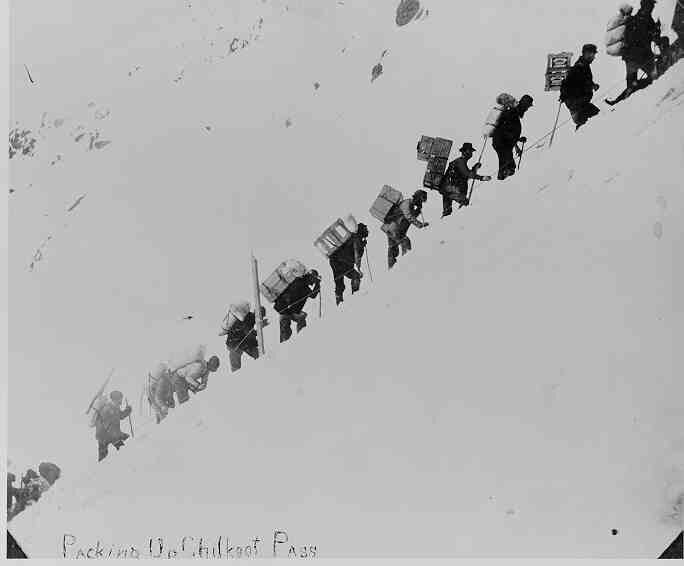 The Chechahcos tells the story of two Klondike gold seekers who raise a baby girl after she is accidentally separated from her young, beautiful, recently widowed mother. One man treats the girl as a daughter, and she grows up to be the apple of his eye. The other falls in love with her. You can watch this movie to see several amazing things you won''t find anywhere else – a love story between a girl and her adoptive dad, just for starters. The Chechahcos also includes a dog sled race, death by melting glacier, spectacularly detailed art direction, and magnificent vistas of the long trails of gold crazed chechahcos (Inuit for newbies) trudging up Chilkoot Pass.
You may have seen the vistas already. They are rumored to have been recycled in Charlie Chaplin's The Gold Rush.
A pristine print of The Chechahcos was recently discovered in Alaska, which is why we are able to see it today. Shot entirely on location, this ambitious production is the only Lewis Moomaw film which made it to the 21st century.
I claim The Chechahcos as an Oregon film because it was directed by Moomaw, who was born in Bend, and based his film career in Portland.
It is available as part of a four DVD set titled Treasures of American Film Archives, and can be borrowed from the Multnomah Public Library.
The Chechahcos, directed by Lewis Moomaw in 1924 is b&w/silent/86 minutes.