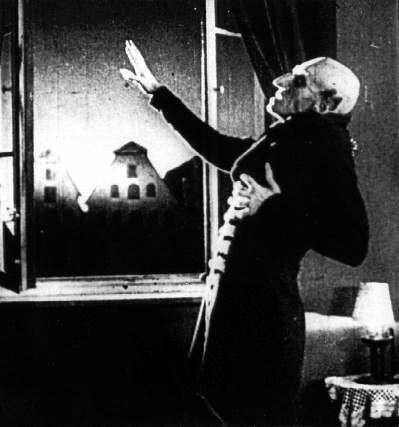 Oops! Sorry, my mistake! That still is from F. W. Murnau's Nosferatu (1922), made in Germany six years before he came to Athena, Oregon in 1928 to shoot City Girl (released in 1930).

Here's the still from Twilight, Catherine Hardwicke's adaptation of Stephanie Meyers' best selling young adult novel, which has taken in $70.6 million in its first weekend, surpassing Mimi Leder's previous record of $41.1 million for Deep Impact in 1998 to become the biggest box office success for a female director in Hollywood history.
Twilight was shot in Oregon, although it is set in Washington.
A genuine love story might be difficult for a young audience to handle, but this fantasy is blissful madness—an abstinence fable sexier than sex. David Denby
Read author Meyers' winning account of writing Twilight. Inspired by a dream, she wrote the manuscript which would become her first novel by stealing time when her two sons were asleep or at swimming lessons.
I have not seen Twilight.