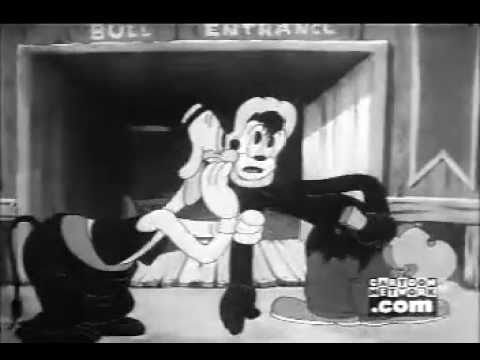 "When handed my first Warner's paycheck, I had to blink my eyes. Two hundred dollars! I'd never seen three digits on a check before, at least not on one made out to me." Mel Blanc
Radio actor Mel Blanc decided to branch out into animation in part because he was worried that radio would be a passing craze. Plus he had heard that animation paid well. Plus he believed there was room for improvement in the voice work he heard in the cartoons he saw. He spent a year and a half pursuing an audition at Warner Brothers before one was granted.
Treg Brown liked what he heard and asked Mel to stick around for a minute while he found a second opinion.
From That's Not All, Folks!, Mel's autobiography:
A lively Christmas office party was in progress, so the entire cartoon division was present, albeit in various stages of mood alteration.

He ( Treg Bown) brought back the four directors: Isadore Freleng, whom everyone called Friz, Frank Tashlin, Bob Clampett and Fred "Tex" Avery. The diminutive Freleng was a holdover from the old regime and a Walt Disney refugee. At the time, he was involved primarily with the Merrie Melodies in-color shot subjects. Tashlin had only recently arrived at Schlessinger Productions, directing several of the black-and-white Looney Tunes. A comedy writer and cartoonist, he later went on to a distinguished film directing career. Clampett was an even newer addition to the staff; a handsome fellow with wavy hair and a lantern jaw. Then there was portly Avery, who'd gotten his start as an animator for producer Walter Lantz. At Warners he gained distinction as one of the most wildly inventive directors of all time.
With the four directors assembled around him, Mel Blanc repeated his audition.
"That's terrific!" Avery exclaimed. "Tell me, can you come in for a recording session next Tuesday?" Not wanting to appear too overanxious, I thought about it for a minute before replying nonchalantly " Yes, I think I can make it."
And thus Mel Blanc, Lincoln High School dropout, began his Hollywood career.
Today is Mel Blanc's 103rd birthday. I am posting Pickador Porky, his big screen debut, in honor of that occasion.
Porky Pig in Pickador Porky is voiced by Joe Dougherty ( who had originated the characterization ). The bull is voiced by Billy Bletcher. Mel Blanc voices a drunk. Treg Brown was the sound effects editor, Chuck Jones & Sid Sutherland & Bob Clampett were the animators. Tex Avery was the supervisor, Carl Stalling was the music director.
I hereby claim Pickador Porky as an Oregon film, based on the contribution of voice artist Mel Blanc.