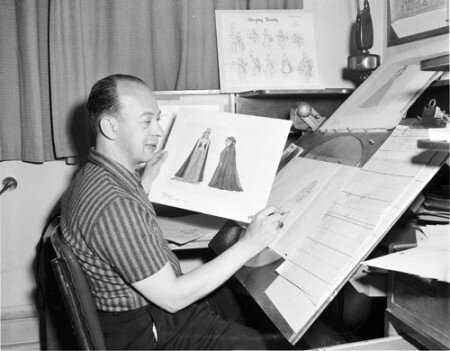 Roughly stated, there are two ways for an artist to earn the coveted Oregon filmmaker appellation. One is to come to Oregon to make a film. The other is to leave Oregon to do the same thing. Marc Davis chose the second route.
Marc Davis (1913 – 1978) was not born in Klamath Falls, nor did he grow up there. He did arrive in time to attend Klamath Union High School, the same institution which produced William Kittredge, James Ivory and Chris Eyre.

Kittredge, Ivory and Eyre – all three shared with me their memories of the teachers who introduced them to their future vocations. For Kittredge, it was an English teacher. For Ivory, drama. For Eyre, photography. All of these cultural riches from one high school in a small town in a rural county in Southern Oregon.
I never had the opportunity to ask Marc Davis about his high school experiences in Klamath Falls. What I do know: he himself was a dedicated and generous teacher to young animators throughout his career. The Marc Fraser Davis Scholarship Fund was established in his honor at California Institute of the Arts in 2000.
After graduating from Klamath Union High, Marc Davis went to art school in Kansas City, then in San Francisco and then in Los Angeles. He finally stopped studying art and began drawing for a living in Hollywood where, among other things, he created one of Disney's most terrifying villainesses, Maleficent in Sleeping Beauty.
Walt Disney hired Marc Davis in 1935. Some of his credits:
One Hundred and One Dalmatians (1961) (directing animator)
Sleeping Beauty (1959) (directing animator)
Peter Pan (1953) (directing animator)
Alice in Wonderland (1951) (directing animator)
Cinderella (1950) (directing animator)
Song of the South (1946) (directing animator)

This post brought to you by Oregon Cartoon Institute.