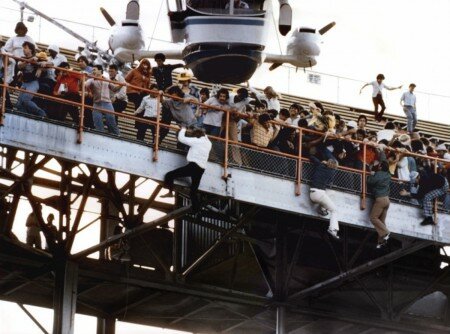 Recognize anyone?
The shooting locations for Black Sunday listed on IMDB indicate that John Frankenheimer drove that big bumbling behemoth (seen manuevering into the stands, above) somewhere in Oregon. Anybody have any further intelligence on this?
What was shot here?
The Jan. 30 Hollywood Theatre screening of Black Sunday is a perfect opportunity for a community minded Oregon Movies, A to Z reader to go ID the Oregon-specific location for this terrorism themed thriller. Don't forget to email me what you learn!
From their website:
January 30 at 7:30pm I $5

A Super Bowl Cinema Event.

From the author of "The Silence of the Lambs" and "Red Dragon" ("Manhunter") came a terrifying vision of the ultimate terrorist act. Based on Thomas Harris's first novel, the only one that did not feature Hannibal Lector, director John Frankenheimer ("The Manchurian Candidate", "Ronin") created this taut, chillingly prescient action suspense thriller some 24 years before the events of 9/11. Michael Lander (Bruce Dern "Coming Home", "Silent Running") is a crazed Vietnam vet explosives expert whose regular job involves piloting television blimps over stadiums for sporting events. He has been approached by a beautiful female operative (Marthe Keller "Marathon Man") from the terrorist cell Black September, to plot the most horrible mass murder imaginable: explode the Goodyear blimp at the Super Bowl on the 50-yard line. Hot on their trail is a cold-blooded Mossad agent (Robert Shaw "Jaws", "The Taking of Pelham 1,2,3") who will do whatever it takes, regardless of international law, to learn what they plan and stop them.

With a twisted sense of judgment, we have decided to screen this action packed masterpiece a few days before the 2013 Super Bowl as a sort of pre-Super Bowl cinema party…complete with the requisite Super Bowl snack potluck (bring your "A" game and impress us).
Here's my best guess: I'm thinking Frankenheimer used Jeld-Wen Field ( then named Civic Stadium) for a one of the crowd scenes.