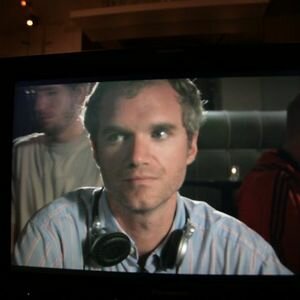 .
James Westby did it his own way. He started out making features, before getting around to making shorts. What role did Portland play in his career?
.
Anne Richardson: It seems to me you are a self taught filmmaker. You didn't go to film school. Is that correct?
.
James Westby: I moved to Portland from Bellingham, Washington when I was 20 because I was obsessed with Gus Van Sant's DRUGSTORE COWBOY. I even moved to the William S. Burroughs character's neighborhood. Then I found out about the NW Film Center, started taking 2 classes there (16mm editing and 16mm production), and I worked at First Stop Video on Barbur Blvd, and later at the Hawthorne store.
.
I lasted at the Film Center less than one semester, but used the equipment (and Kodak film stock student discount!) to make my first feature film. I skipped making shorts entirely, until recently. A great deal of my time was, oddly enough, spent at Trilogy Video, where I DIDN'T work. There I would, among hundreds of others, rent the Criterion laserdisc of RAGING BULL over and over. Cliche, yes, but that was the greatest film school of all.
.
Anne Richardson: Who taught you/made your first films possible?
.
James Westby: I made 3 features in my early 20s, two of them shot on 16mm and one on 35. I edited on a KEM flatbed and even cut my own negative (!) to save money. I worked for a time doing that, for myself and others, at Teknifilm Lab. The Teknifilm crew – including Bob Zurcher, Bob Townsend, Don Gronquist, Ron Salvetti, Brian Casey– were all very supportive of my early efforts, horrible though the films were (thinking back on them now)!
.
In fact, Zurcher sent Gus Van Sant a VHS tape of my first feature SUBCULTURE. I almost hit the floor when Gus called me and said how much he'd enjoyed the film. I was 21! That was a huge moment in my life. After these three films. I sat and wrote for many years and gained some much-needed life experience.
.
Anne Richardson: Did you have other Portland mentors/employers/ inspirations? Who were they?
.
James Westby: Jacob Pander and Marne Lucas were a Portland couple I had met in Chicago while we were both on the festival circuit back in 1996. They became good friends of mine, and kind of WERE the "film scene" here in Portland that I felt attached to. Jacob continues making films with his brother Arnold. Marne Lucas, perhaps the coolest Portlander I ever met, now lives in New York.
.
I was hired to edit a great documentary called HAUNTERS by local filmmakers Byrd McDonald and Brian Johnson; my first Final Cut Pro job. That definitely helped carve my way to becoming a "digital filmmaker." Suddenly you didn't have to buy film! It is hard to impress upon younger folks just how liberating that was…
.
Certainly the work I did at Sockeye (Travel Portland videos, Storm Large video, lots of short docs and commercials) sharpened my chops and continued to encourage me to shoot and edit very economically. Also the guys there hugely supported the making of RID OF ME while I worked there; lending me their camera and helping out with production insurance and the like.
.
Lately I am inspired by the unusually strong group of documentarians in town: Brian Lindstrom, Larry Johnson, Andy Blubaugh, Ilana Sol, Matt McCormick, Irene Taylor Brodsky, and so many others.
.
Anne Richardson: At any point in your career did you have to leave Portland to make upward progress?
.
James Westby: I moved to Los Angeles from 1998-2001 in order to try and be a "SUCCESSFUL SCREENWRITER." When I realized I had no interest (or skill) in trying to work in Hollywood, I came back here and immediately began embracing digital video, using my resources to create movies that were personal to me, that were made with no compromises, and that I would have complete control over. This has not changed, and I have not moved away again.
.
Anne Richardson: Do you foresee staying in Portland long term? Is it a goal of yours to outgrow Portland, or do you want to remain based here.
.
James Westby: I have three feature screenplays ready to film, and they're all set here in Portland. Well, one of them is set in 1977 Los Angeles, but we'll be shooting it here and in Medford. Also I am writing a Western that is very specifically set here.
.
I want to continue working with my favorite actors, who are all local. Katie O'Grady, Melik Malkasian, Orianna Herrman, John Breen, Jana Hamblin, Sean McGrath, Shelly McLendon– these people are the best of the best and they are a huge inspiration to my work.
.
Anne Richardson: Thank you, James!
———————————————————————————–
To see where James Westby fits into Portland film history, consult Portland Monthly's handy Film Family Tree.
.
A Westby sampler:
.
http://www.vimeo.com/13423808