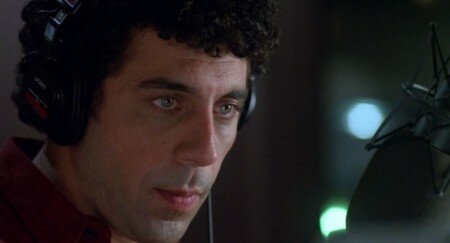 On Jan 10, KBOO FM and Clinton Street Theater join forces to bring Oliver Stone's only Oregon film to the big screen. But wait, doesn't writer-star Eric Bogosian live in New York? And Oliver Stone in LA? Wasn't Talk Radio inspired by the death of radio talk show host in Denver? And wasn't it set, and shot, in Texas?
.
Q: So how is this an Oregon film?
.
A: Because
Talk Radio
began here. Portland artist Tad Savinar did an exhibit titled Talk Radio at Marylhurst University's Art Gym in 1983. Those paintings then evolved into an evening of performance art in collaboration with actor Eric Bogosian, a work which was commissioned by the Portland Center for the Visual Arts in 1984.
.
Tad Savinar
spoke about his role as
co-writer of Talk Radio
at the Oregon Sesquicentennial Film Festival in 2009. He was listening to the radio as he painted when his friend, Eric Bogosian, visited him. As they marveled over the vitriol they were hearing over the air waves,
Talk Radio
was born.
.
So you know the drill: listen to the radio, make a performance art piece, perform it in Portland, perform it at the Public Theater, make a film with a Hollywood director.
.
For many reasons, Talk Radio is a great choice to launch Portland's newest radio/cinema series. S. W. Conser, the producer of KBOO's Words & Pictures, an interview format program devoted to Portland animation and film, is a long time fan of the Clinton Street. Roger and Lani Jo Leigh, the new owners of the Clinton Street, are, I'm guessing, fans of KBOO.
.
Voila! A marriage made in heaven.
.
I believe KBOO at the Clinton is, in part, a KBOO fundraiser. So you can come to see Oregon film history and support KBOO at the same time.
.
P.S. Strange but true: You are more familiar with the work of Talk Radio co-creator Tad Savinar than you may realize. He helped design the transit mall in downtown Portland, and his commissioned public art works are part of that landscape. Twenty five years after Talk Radio, he continues to be engaged, as an artist and designer, by the themes of civility and citizenship.
.
P. P. S. Fans of Ellen "Suddenly Seymour" Greene – here's a rare chance!
===================================================
.
Tad Savinar talks with S. W. Conser about the creative process behind TALK RADIO, and about his collaboration with Eric Bogosian, on KBOO's Stage and Studio. A wonderful half hour interview!