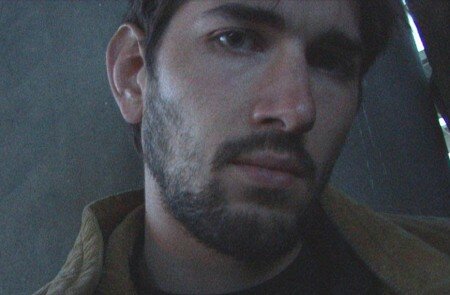 From a description by Chicago Filmmakers
Jason, a young soldier (played by Ryan Harper Gray), returns from Iraq and finds himself homeless in Portland, Oregon. He is taken in by Chris, an advertising executive (played by Stephen Taylor) whose polluted kindness begins to provoke Jason's deep smoldering anger. Writer/director Jon Jost's powerful response to the Iraq war couples a tense narrative with an elaborate use of sound to illustrate Jason's interior world, and the actors' hair trigger performances give the story an unusually raw edge.
Jon Jost adds:
The film was made in 10 very casual days in which shooting was normally confined to a few hours, or some days none. There was no script at all, and the story, to the degree there is one, was developed in process of shooting. Being a film of tonality and atmosphere, what was important was to find the right settings, weather, light – and then to insert the actors into those and let them and myself find the appropriate cues.
I hereby claim Over Here as an Oregon film on the basis of the location shooting in Portland, and the cast of Oregon actors.