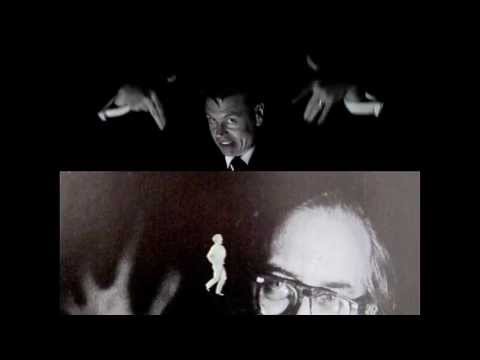 On May 16, Oregon Cartoon Institute presents an evening of films by Portland born experimental animator Harry Everett Smith (1923 – 1991).
http://harrysmithpdx.wordpress.com/
"I like my films because I didn't make them: God made them." Harry Smith
Two of Harry's gorgeous hand painted Early Abstractions will be followed by Heaven And Earth Magic, Harry's surreal 66 minute stop motion/cut out animation masterpiece.
This is a rare opportunity to see Heaven And Earth Magic projected on the big screen, using the sumptuous, expanded cinema techniques Harry himself used! Famed film archivist Dennis Nyback will recreate Harry's live projection, using multiple projectors to alter, color and shape the moving image.
All films on 16mm. Live music accompaniment by Matt Carlson and Jordan Dykstra. Sound design by Andrew Ritchey.
Harry Smith's description of Heaven And Earth Magic:
"The first part depicts the heroine's toothache consequent to the loss of a very valuable watermelon, her dentistry and transportation to heaven. Next follows an elaborate exposition of the heavenly land, in terms of Israel and Montreal. The second part depicts the return to Earth from being eaten by Max Müller on the day Edward VII dedicated the Great Sewer of London."
3 Harry Smith films + 3 Harry Smith experts!
Here's the lineup:
Sheldon Renan introduces Rani Singh, director of the Harry Smith Archives at the Getty Institute.
Rani Singh introduces Harry's mindblowing films.
Following the films, Sheldon Renan, Rani Singh and Darrin Daniel discuss Harry, and take questions.
All three speakers knew Harry Smith personally.
Sheldon Renan met Harry in the 1960's in New York City. He first wrote about Harry in An Introduction to the American Underground Film.
Rani Singh and Darrin Daniel met Harry during his three year tenure (1989-1991) as Shaman-In-Residence at Naropa Institute.
Rani Singh is the co-editor of Harry Smith: The Avant-Garde In The American Vernacular.
Darrin Daniel is the author of Harry Smith: Fragments Of A Northwest Life.
The Harry Smith Seance is presented by Oregon Cartoon Institute, an all volunteer organization dedicated to raising awareness of Oregon's rich animation and cartooning history.
http://www.oregoncartooninstitute.com/
In addition to the Seance:
May 16 Harry Smith In The Pacific Northwest https://www.facebook.com/events/170498049771143/?fref=ts
May 19 Harry Smith Free For All https://www.facebook.com/events/134053396776175/?fref=ts
Oregon Cartoon institute partners with the Third Annual Northwest Animation Festival, which runs from May 17 – 19, and with the Hollywood Theatre, to present the Seance.
"I keep trying to inspire people but whether this compensates for my sins, I don't know." Harry Smith
http://harrysmithpdx.wordpress.com/