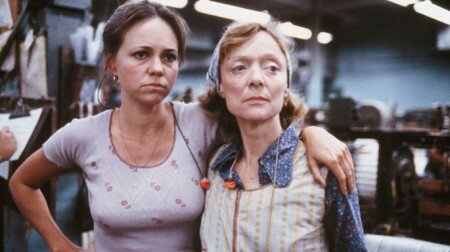 Sally Field and Barbara Baxley, on the mill floor in Norma Rae
Here's what goes into a Oscar winning performance.
Screenwriter Harriet Frank, Jr., born into the radical middle class of Progressive Era Portland, was tapped by Martin Ritt, a former blacklistee, to adapt the true life story of Crystal Lee Sutton, a North Carolina textile mill worker turned union organizer. Frank writes Norma Rae in tandem with her husband, screenwriter Irving Ravetch, the son of a New Jersey rabbi. Together they fictionalize Crystal Lee Sutton's real life mentor, Eli Zivkovich, transforming him from a West Virginia coal miner to a New York labor organizer.
The passion behind the filmmaking is authentic. Quite likely every single person working on this film belonged to a union. Norma Rae was nominated for Best Picture and Best Screenplay. It won for Best Music, and Sally Field won Best Actress.
I hereby claim Norma Rae as an Oregon film on the basis of the contribution of Oregonian Harriet Frank, Jr.