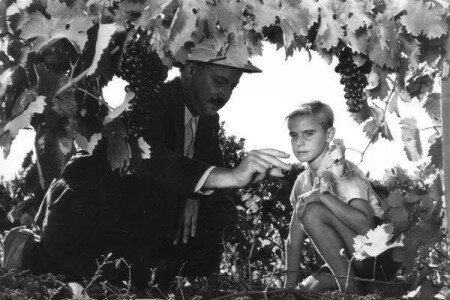 When James Blue adapted Jean Pelegri's novel to make The Olive Trees Of Justice (1962), he cast Pelegri himself (above, left) as one of the leads.
Oregon's independent film scene sprang to life after Will Vinton won an Oscar in 1975, right?
Yes….and no.
There's no question that Will Vinton changed Oregon film history. But Oregonians made independent films before 1975. They just didn't make them in Oregon.
Here's a look at our history during the decade preceding Vinton's game changing win.
In 1962, James Blue made the The Olive Trees Of Justice, his first feature, in Algeria. It was the first American film to win the Critic's Prize at Cannes. Blue grew up in Portland. He graduated from Jefferson High School and from University of Oregon.
In 1963, one year later, James Ivory (Klamath Falls), made his first feature, The Householder, in India.
The "imports vs exports" scorecard below compares 1960s films which were made in Oregon with 1960s films which feature contributions by Oregon film artists, but which were made elsewhere.
A third list is of films made in Oregon by Oregonians. The 1960s is the first decade since the silent era that this category of Oregon film begins to show signs of life. These films have been traditionally claimed as Oregon films because they were shot within the state border.
I propose that all films made by Oregonians, whether made within state boundaries or far, far outside them, be included in Oregon film history, and added to the long standing "One Flew Over The Cuckoo's Nest, Animal House, The Goonies" list of Oregon films.
Turning to the actual films:
I'll point out that the films we traditionally embrace as "Oregon films", because they were shot here, are far less interesting than the films made by Oregonians (whether inside or outside the state).
Especially notice that Oregon artists show no interest in the Western, a genre which dominates the "imports". By ignoring/excluding the films made by Oregonians outside the state, we have drastically limited our understanding of the size of Oregon's role in American film history. We have done much more than supply backdrops for Hollywood Westerns.
The third category of films, of films made in Oregon by Oregonians, contains a news documentary written by television journalist Tom McCall, a stop motion short made by Derek Muirden & George Hood (foretelling a future Oregon specialty), an experimental short by Portland ad man, Homer Groening, and an experimental short by a young filmmaker in Eugene, Ron Finne. The diversity of this list bodes well for the following decade, the 1970s, when Oregon indigenous filmmaking begins to progress at full throttle.
N.B. These lists are not comprehensive. Far from it!
Imports:
All The Young Men 1960 (Sidney Poitier, Alan Ladd) Mt. Hood
Ring Of Fire 1961 (David Janssen, Frank Gorshin) Vernonia
Shenandoah 1965 (Jimmy Stewart, Andrew McLaglen) Eugene
The Way West 1967 (Kirk Douglas, Robert Mitchum) Central Oregon
Paint Your Wagon 1969 (Clint Eastwood, Lee Marvin) Baker
Mackenna's Gold 1969 (Gregory Peck, Omar Sharif) Eastern Oregon
Exports:
Nude On The Moon 1961 (Doc Severinsen) LA
Heaven & Earth Magic 1961 (Harry Smith) NY
101 Dalmations 1961 (George Bruns, Marc Davis) LA
The Olive Trees Of Justice 1962 (James Blue) Algeria
Hud 1963 (Harriet Frank, Jr.) LA
The Sword and the Stone 1963 (George Bruns) LA
The Householder 1963 (James Ivory) India
The March, 1963 (James Blue) Washington DC
Kissin' Cousins 1964 (Gene Nelson, Ellis Carter) LA
Shakespeare Wallah 1965 (James Ivory) India
Gentle Giant 1967 (Walt Morey) Florida
The Jungle Book 1967 (Ralph Wright, George Bruns) LA
The Mother Of All Demos 1968 (Douglas Engelbart) Menlo Park
Dual Diagnosis:
Pollution In Paradise 1962 (Tom McCall) Portland
Little Plastic Hearts 1965 (Derek Muirden & George Hood) Portland
A Study In Wet 1966 (Homer Groening) Portland
How Old Is The Water 1968 (Ron Finne) Eugene
Scorecard:
Huge budget Hollywood: 3
Low budget Hollywood: 2
No/low budget indies: 9
Written by a future governor of the state: 1
Stop motion animation: 2
Made by Oregon writer-directors, our regional specialty: 7
Made in other countries: 3
Academy Award nomination: 1 ( George Bruns, for the score for Sword And The Stone )
=====================================
Trace the evolution of Oregon's regional specialty of producing talented film artists:
Scorecard: 1950s trade balance
Scorecard: 1940s trade balance
Scorecard: 1930s trade balance