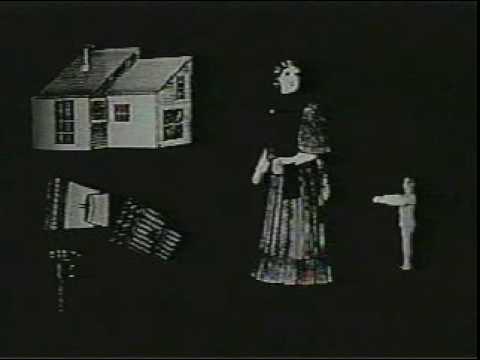 The themes of mentality and divination run through Heaven and Earth Magic, which features a loose story in which a woman chases a dog who has stolen her watermelon. Jamie Sexton in Senses of Cinema.
Harry Smith was a painter, and first began animating by painting directly on film. By the time he was making Heaven and Earth Magic, his approach to cinema had grown to incorporate chance music, cut out animation, installation, and performance art.
He created a special projector for this film so it could be projected with an array of color filters. He intended to create special chairs, each one different, for the audience, and his ideal scenario, never realized, was to have those chairs move around in predetermined patterns throughout the film.
Smith preferred using contemporary music to accompany Heaven and Earth Magic so originally there was no soundtrack or score, as "contemporary" music is a moving target. He sometimes used live radio. To approximate the artist's original intent, you should watch this youtube with the sound turned off, and your favorite radio station turned on.
Heaven and Earth Magic was named by Jonas Mekas. Smith's own title for this film, which originally was six hours long, was simply #12.
This post brought to you by Oregon Cartoon Institute.