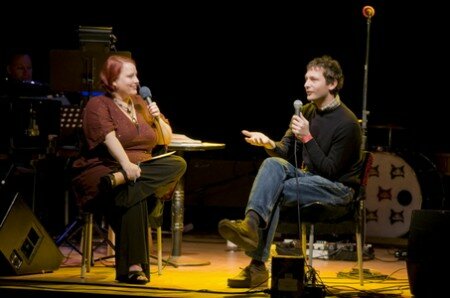 Portland novelist/screenwriter/art critic Jon Raymond, whose name appears in the previous Matt McCormick On Vanessa Renwick post, agreed to send in his own entry. These three question quizzes are being conducted in honor of Raw, Raucous and Sublime: 33 1/3 Years Of Vanessa Renwick, An Oregon Department Of Kickass Retrospective, on April 25 & 26 at the Hollywood Theatre.
.
Anne: Do you remember meeting Vanessa? Did you meet her first, or see her films first?
.
Jon: I might've met Vanessa for the first time in the mid-90s, on a Wednesday night at Ringler's Annex. Back then, a group of artists had a regular Wednesday-night thing at that bar. Mike Brophy, Eric Stotik, Randy Gragg, Cynthia Lahti. I bet Vanessa and I first crossed paths among that group. It was a great period. I met so many amazing artists at that table, some of whom, like Vanessa, have remained dear friends ever since.
.
Anne: Vanessa is prolific. You've seen her work over the years. Recently, she won acclaim as a portraitist of the Pacific Northwest. When you met her, and saw her first films, did you expect this would be in her future?
.
Jon: One does not speculate about Vanessa's future. One only admires the singular, incredible wake of destruction in her path.
.
Anne: How close to the surface was the "insanely ambitious" aspect of life in Portland when you, Matt McCormick, Vanessa, and Miranda July were brought together by
Matt McCormick
's
Peripheral Produce
screenings? You all went on to careers which reached far beyond the Rose City. Was there some kind of critical mass achieved by the coming together of four emerging artists, aka the Fantastic Four?
.
Jon: I don't know that I ever contributed much to that group, except maybe as an ardently enthusiastic audience member. (Ed note: Raymond is being modest here – he directed, produced and starred in Battles On The Astral Plane – turns out he is a really good dancer!) I can say, though, that Vanessa's peculiar form of ambition has always been really inspiring to me. She's ambitious, yeah, but never in a way that has anything to do with status or competition. She's ambitious about making new work and living an interesting life, and the measuring stick she uses is always solely her own. Maybe ambition isn't even the word for what drives Vanessa. Maybe its just a fantastic, infectious, open-hearted love of life.
.
Anne: Thank you, Jon!
.
Other interviews in the Raw, Raucous & Sublime Three Question series:
.
=======================================================
.
What: Raw, Raucous and Sublime: 33 1/3 Years Of Vanessa Renwick, An Oregon Department Of Kickass Retrospective, presented by Oregon Movies, A to Z.
Where: Hollywood Theatre, 4122 NE Sandy Blvd, Portland, OR (503) 281 -4215
When: April 25 & 26, 7:30 PM.
Plus: Filmmaker in attendance!
Interview: http://www.talltalestruetales.com/2013/04/vanessa-renwick-talks-why-portland/
Facebook: https://www.facebook.com/events/513729408679513/