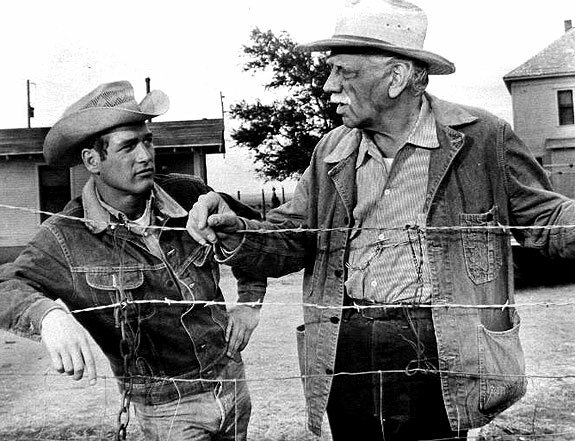 It looks like love and mutual regard. The characters played by Paul Newman, the titular "Hud", and Melvyn Douglas actually hate each other.
Screenwriter Harriet Frank, Jr. teamed up with her husband/writing partner Irving Ravetch to adapt the Larry McMurtry's first novel, Horseman, Pass By. They were working with Martin Ritt and Paul Newman, with whom they had previously collaborated on The Long Hot Summer.
Hud was nominated for seven Oscars, and won three: Best Cinematography (James Wong Howe), Best Actress (Patricia Neal) and Best Actor In A Supporting Role (Melvyn Douglas).
Irving Ravetch and Harriet Frank were nominated for Best Screenplay Based On Material From Another Medium.
I hereby claim Hud as an Oregon film on the basis of the contribution made by Oregonian Harriet Frank, Jr.
====================================================
Strange But True:
James Wong Howe grew up in Pasco, Washington, and spent 1915-1916 in Portland, in a failed attempt at a boxing career. He got his first job in the movies in LA through a boxing connection. He never crossed Portland paths with Harriet Frank, Jr., however. She was born there in 1917.
Paul Newman would come to Oregon to make Sometimes A Great Notion in 1971.
Larry McMurtry would marry Faye Kesey, Ken Kesey's widow, in 2011.