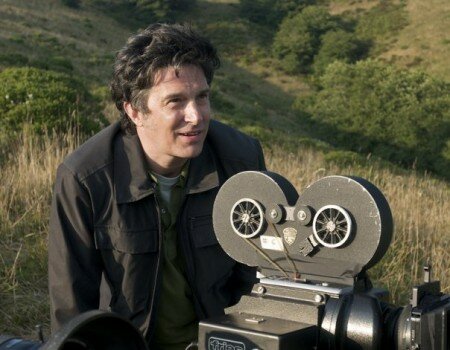 .
Chel White was already a filmmaker when he arrived in Portland in 1985. Oregon Movies, A to Z asked him about what happened next.
.
Anne Richardson: I have read that you came to Portland specifically to work for Jim Blashfield. Is that correct?
.
Chel White: I moved to Portland in May of 1985 because of a girlfriend who was from here and wanted to move back. Finding out that there was a thriving animation community in Portland was a happy accident. It was a little before I arrived, but there had been this group called the Animation Collective that included Jim Blashfield, Joanna Priestley, Rose Bond, Laura DiTrapani, and possibly Joan Gratz and Will Vinton. Within a couple months of moving here I went to a screening in which a few of these folks (Jim, Joanna, Rose and Roger Kukes) showed some new work and talked about their creative process. I was especially taken with Jim's SUSPICIOUS CIRCUMSTANCES. It wasn't until a year later that I actually met Jim, then within a few more months, was working for him on the Paul Simon music video.
.
Anne Richardson: You came and you stayed. How important was your decision to relocate to Portland, in terms of the overall forward progress of your career?
.
Chel White: As far as staying in Portland, within a couple years of being here I realized I had made a good choice. I had lived in San Francisco before and I found I had more creative dream time in Portland because the cost of living was so much cheaper here. I could eke by working just part time, at least until I had kids. Then the jig was up and I had to buckle down.
.
Anne Richardson: Is there any one single Portland influence which has shaped you, more than any other?
.
Chel White: Jim Blashfield and Gus Van Sant (who I met in 1986 and started working with in the early '90s) were the closest things I had to mentors. I learned the most from them. The other big thing that kept me here was Portland's proximity to nature; all kinds and in every direction.
.
Anne Richardson: Thank you, Chel.
=============================================
To see where Chel White fits into Portland film history, consult Portland Monthly's handy Film Family Tree.
.
Check out his latest:
.
http://www.vimeo.com/47068455