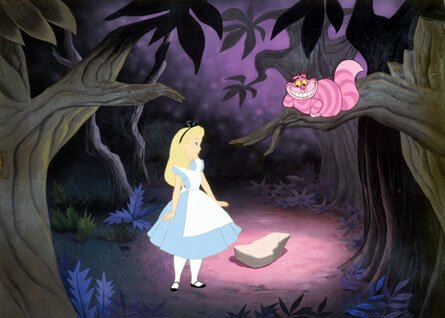 Marc Davis, the only one of Disney's Nine Old Men who happened to graduate from Klamath Union High School in Southern Oregon, worked on Alice In Wonderland as 'directing animator', a position he would also hold on Peter Pan, Sleeping Beauty and 101 Dalmations.
I have often wondered about the imaginative journey Disney animators took when they were asked to dramatize Lewis Carroll's story of a little girl who falls down a rabbit hole, changes size, can't find her way out, and is increasingly frustrated by various non-human beings, one of whom eventually threatens her with death.

Whatever the journey was, Tim Burton took it all over again in 2010, when he cast Mia Wasikowska as Alice in his live action remake. Johnny Depp replaced Ed Wynn as the Mad Hatter.

I hereby claim the original Alice In Wonderland as an Oregon film, based on Marc Davis' contribution as animation director.