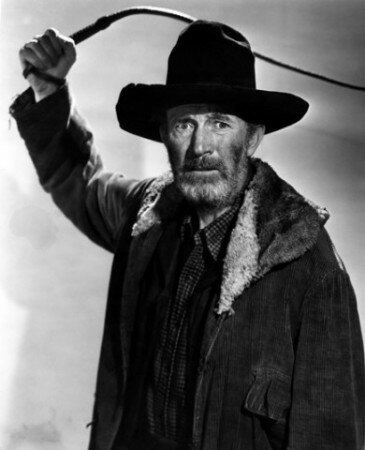 Ginger Rogers moved to Southern Oregon shortly after she won an Oscar. Walter Brennan moved to Eastern Oregon shortly after he won three. After Eugene Pallette bought a ranch just up the road from "the Brennan place" on the way to Imnaha, the trend stalled out, and that was it in terms of Oregon homes for wayward movie stars.
This promotional still is from John Ford's My Darling Clementine (1946), in which Henry Fonda plays Wyatt Earp, Victor Mature plays Doc Holliday, and Walter Brennan plays the bone chilling personification of evil, Ike Clanton.
By the time he made this picture, Brennan had been living in Joseph for several years. Never mind that he was from Massachusetts, and his father an engineer. Brennan made a convincing cowboy. In a case of life imitating art, his eldest son is a rancher today.
Brennan made so many fine pictures. Pick one, and see it. Oregon Movies, A to Z recommends Come And Get It, which stars another Pacific Northwesterner, Frances Farmer. Other possibilities: The Westerner, To Have Or Have Not, Red River, or Meet John Doe.
If you go to Joseph, you can stay at the Indian Lodge Motel, which once belonged to Oregon's most Oscared movie star. It is within shouting distance of the ranch which was "the Brennan place".