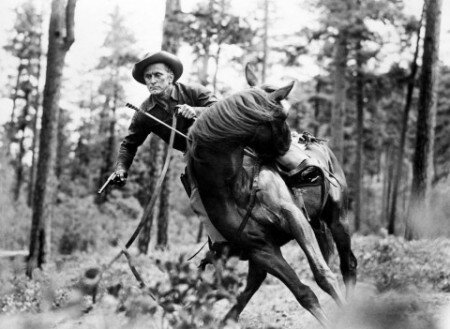 Behold the genesis of One Flew Over The Cuckoo's Nest!
Kirk Douglas (born Issur Danielovitch in Amsterdam, New York) produced, as well as starred in Indian Fighter, a B western with numerous claims to fame. Watch this film to see a ) Walter Matthau play a bad guy b) Elsa Martinelli, an Italian import, play a Sioux and c) director Andre de Toth, one time protege of Ferenc Molnar, pay his rent.
The hero of Indian Fighter is loyal both to the white settlers who hired him to lead them safely through Indian Territory, and to the Indians who are his longtime friends, but who are regarded as enemies by the people who have hired him as guide. Shake, mix, repeat.
This is the first of three Douglas family Oregon projects. Kirk Douglas returned to star in The Way West (1967). He hoped to make One Flew Over The Cuckoo's Nest (1976), but turned that project over to son Michael Douglas – who continued the family tradition of hiring European emigre directors to direct Oregon pictures.
Set in Sioux country, Indian Fighter was actually shot in Central Oregon. At a recent screening at the Tamastslikt Cultural Institute in Pendleton, audience members were able to identify family members in the cast. It has long been claimed as an Oregon film.