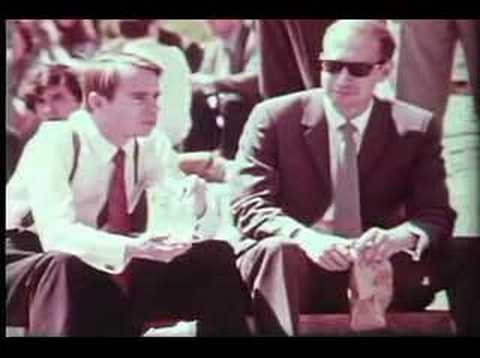 Dennis Nyback accquired We Are The City in a large lot of second hand 16mm shorts, having no idea that it had any Portland connection. He screened it when he was choosing films for a Jacob Burns Film Center commission — and was surprised to see it stuffed with oddly familiar freeways, parks and political figures.
Coming back to Portland, Dennis was using his mysterious find in the 2006 TBA project, The Portland That Was. He was complaining at a cocktail party that he couldn't find any information about this unusually Portland-centric educational short, when the person he was talking to said "I made that film."
Tom Chamberlin was glad to hear that someone owned a copy of We Are The City. He certainly didn't. He had made this portrait of a city as part of a series of shorts for Encyclopedia Britannica.
What else was being made in Oregon in 1972?
Jody Foster and a visibly bored Michael Douglas starred in Napoleon and Samantha, shot in John Day Country.
Raquel Welch raced around the Memorial Coliseum in Kansas City Bomber's roller derby scenes.
Robert Duvall invaded Jacksonville in Philip Kaufman's The Great Northfield Minnesota Raid.
Tim Smith and Matt Groening sent up educational filmmaking as a genre with their masterfully deadpan Drugs: Killers Or Dillers.
And Tom Chamberlin made We Are The City. Who knows how many children around the world were first exposed to the concept of urban renewal by a classroom viewing of this film.
We Are The City is a lost film in the sense that it is impossible to see — except for Dennis Nyback's copy.
I hereby claim We Are The City as an Oregon film, based on the location shooting and the director's Portland citizenship.