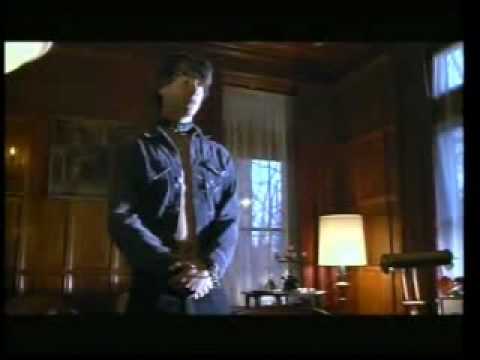 "When Van Sant shows us speeded-up images of clouds rolling past wheat fields, the familiar device transcends cliche, because it's tied to the way that Mike, in his benumbed isolation, experiences his own life-as a running piece of surrealism. The sheer, expressive beauty of those images haunted me for days." Owen Gleiberman
Gus Van Sant knew it would be hard to find backing for a love story between two street hustlers, so he was prepared to make My Own Private Idaho with amateur actors, the approach he had used with Mala Noche, and would go on to use with Elephant and Paranoid Park. But Keanu Reeves surprised him by signing on as Scott, the slumming rich kid, and then persuading River Phoenix to take the role of Mike, the narcoleptic street hustler.
However Van Sant's largest gamble wasn't throwing two straight Hollywood A list actors in bed together. It wasn't re-writing Falstaff as a chicken hawk and it wasn't asking Keanu Reeves to do Shakespeare. It was shooting a screenplay he had written himself, and which was not based on source material, as both Mala Noche and Drugstore Cowboy had been. This was a first for him.
"Van Sant's cleareyed, unsentimental approach to a plot that pivots on betrayal and death is reflected in magnetic performances from Reeves and Phoenix." Peter Travers
Written and directed by an Oregonian, inspired by real Oregonians, shot by two Oregon DPs in Oregon (and Washington and Idaho), and starring an Oregon actor – River Phoenix was born in Metolius, during his parents' hippie years – there has never been a film with more impeccable Oregon credentials.
Strange but true: the screenplay was cobbled together from several screenplays-in-progress Van Sant was writing, none of which he found satisfactory on its own.
Strange but true: the wonderful hotel living room performance which Hans (Udo Kier) gives was not written by Van Sant.
Neither was the famous campfire scene where Mike declares his love for Scott. In both instances, Van Sant allowed the actors to take over the writing, and in the case of the campfire scene, allowed River Phoenix to not only write the scene, but direct the rehearsal of it as well.
Strange but true: in his recent interview with James Ivory, Gus Van Sant described directing actors, which he does so well, as the part of filmmaking he likes the least.
"The performances, especially by the two young stars, are as surprising as they are sure. Mr. Phoenix (Dogfight) and Mr. Reeves (of the two Bill and Ted comedies) are very fine in what may be the two best roles they'll find in years. Roles of this density, for young actors, do not come by that often". Vincent Canby
It is my very great honor to claim My Own Private Idaho as an Oregon film.