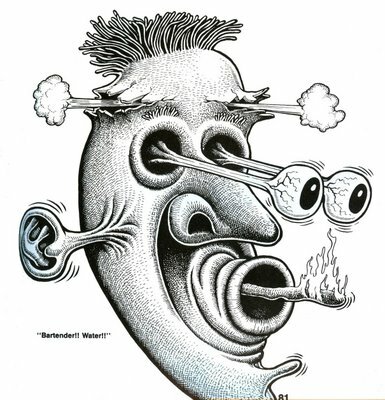 Basil Wolverton displays his pioneering "spaghetti and meatballs" approach to human anatomy.
As Oregon Cartoon Institute heads into its fourth year, I sat down to retrace the steps that led to its creation.
This timeline of development was originally written for Jill Hartz, at the Jordan Schnitzer Museum of Art. Thank you, Jill, for providing me with the impetus to pull this together!
1990's in New York
As I fly back and forth between Portland and New York, I begin noticing the way Oregon press underplays the fame of Oregon's most well received artists (Chuck Palahniuk a great example ) while at the same time New York press omits the Oregon citizenship of an artist all together. I begin to understand the way this has created a misperception that Oregon does not produce artists.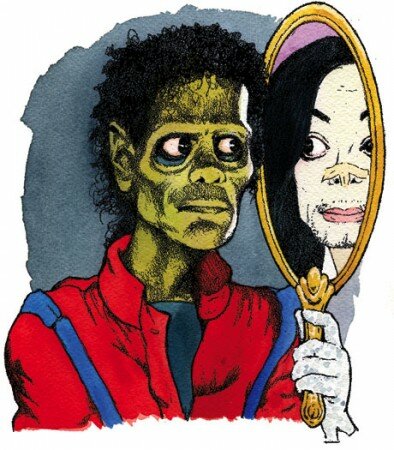 I am particularly aware because David Chelsea has work (example above) appearing regularly in more than one New York newspaper — so I am paying attention to the odd sensation of picking up papers at my corner newsstand, and seeing the work of a Portland friend — whose career no one back in Portland knows about.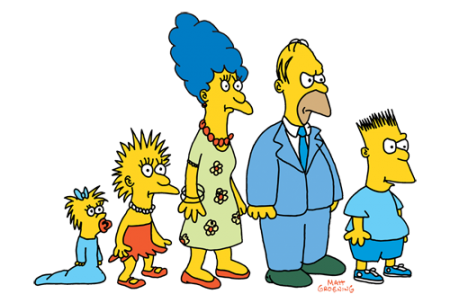 At about this same time Columbia sportswear begins showing up on the subways. The Simpsons are becoming a cultural mainstay. Elliott Smith, the Dandy Warhols, Courtney Love, Gus Van Sant — I start to feel surrounded by Portland even when I am 3,000 miles away.
1999 visiting Portland
David Chelsea tells me about Basil Wolverton.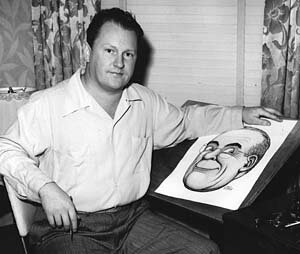 I knew about Homer Davenport, the Hearst newspaper cartoonist from Silverton.
I'd heard about Mel Blanc, Portland's most reknowned voice artist.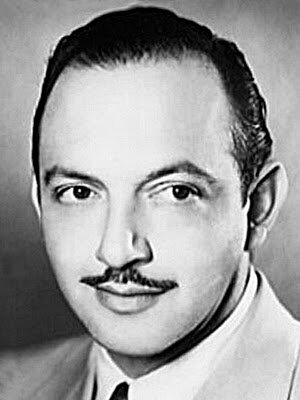 But I am stupefied by Wolverton. How could a guy from Central Point (pop: 12,000) influence an entire generation of Americans? And do it via Mad Magazine ?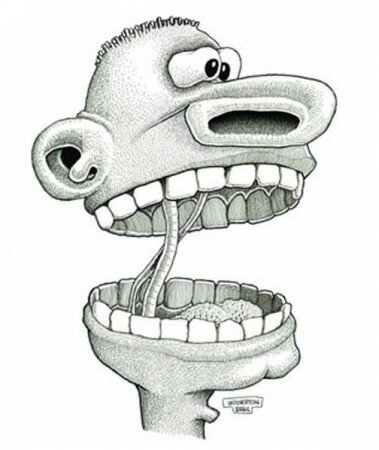 A seed starts to sprout in my mind.
2001, in Portland
Dennis Nyback and I teach an avant garde film survey course at Northwest Film Center. Preparing for it, I discover avant garde animator Harry Smith was born in Portland.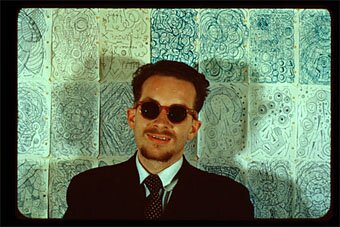 Smith was both the disciplined, insightful, completely original collector behind Folkways' enormously influential Anthology of American Folk Music and a self taught, extravagantly experimental, completely original filmmaker. I never dreamt he had anything to do with Oregon.
In my previous understanding, Oregon rarely produced nationally known artists.
Now with Harry "High Brow" Smith and Basil "Low Brow" Wolverton in the picture, I am completely confused.
2003 in New York
Standing in Kim's Video, I stumble across a footnote in a book about Robert Crumb which identifies Carl Barks, creator of the comic books which were a huge influence on Crumb, as being from Merrill, Oregon.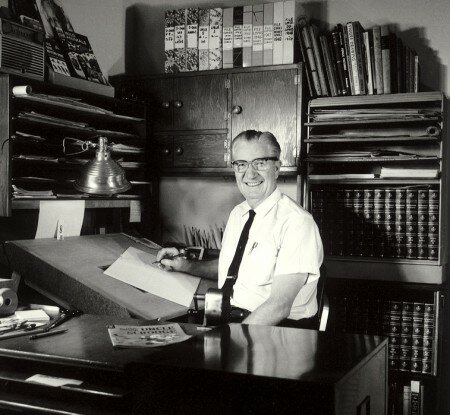 I turn the book over to see who wrote it — D. K. Holm, from Portland.
At this point I compile a list of living and dead Oregon cartoonists and animators and send it to John Canemaker, asking what he thinks. He calls me, excited and impressed.
He adds two new names.
He tells me Marc Davis, one of Disney's Nine Old Men, graduated from high school in Klamath Falls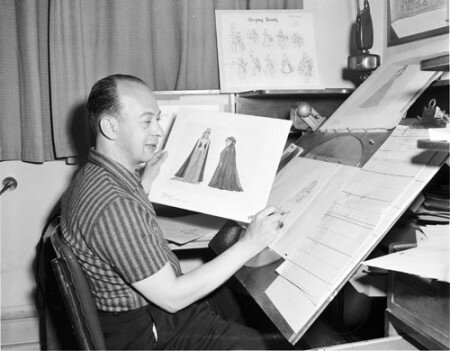 and that Pinto Colvig, an early animator turned voice artist, is from Jacksonville.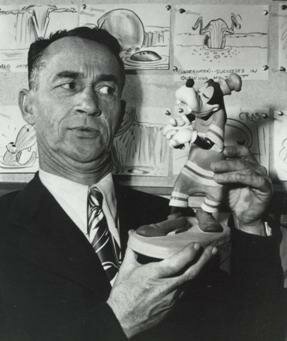 2006 in Portland
Dennis and I interview Portland cartoonist John Callahan for The Portland That Was.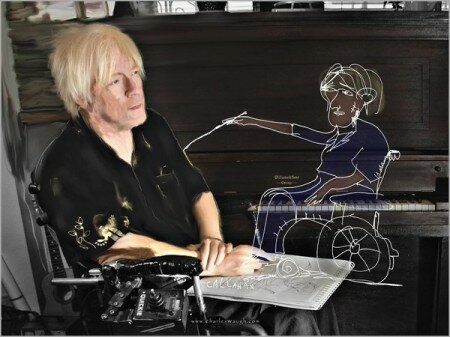 Callahan is surprised to learn that Mel Blanc, a life long hero, is from his own home town. Our intern, a graduate of Lincoln High School, the school Blanc attended, tells us she never heard of him.
About this time, graphic journalist Joe Sacco returns home to live in Portland, bringing with him his 1996 American Book Award.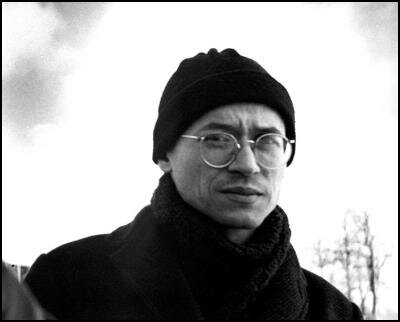 Dennis and I return home too.
2007 in Portland
We hold the first Oregon Cartoon Institute public event, a three week screening series at Disjecta of 16mm animation from Dennis' collection. Jim Blashfield and Rose Bond come and speak. Both have conducted far ranging film careers from Portland.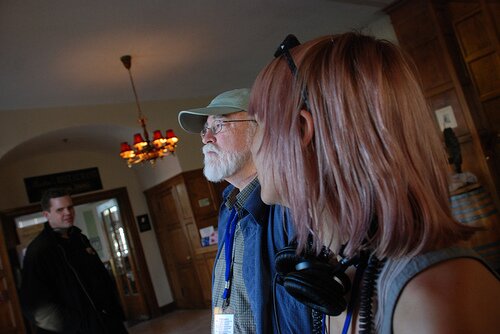 Blashfield made his acclaimed music videos here, and Bond her monumentally scaled installations. Both use animation.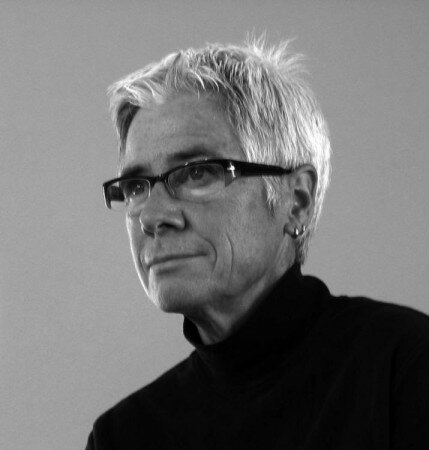 Our model for engaging audiences emerges — we will use living artists as interpreters as we raise awareness about the dead ones. Chel White, Bill Plympton, Joan Gratz, Joanna Priestly, Marilyn Zornado and Will Vinton loan us 35mm prints for the final night of the Disjecta series, which takes place at the Hollywood Theater.
Second Oregon Cartoon Institute event: Dennis conducts video interviews with visiting and local artists at the Platform International Animation Festival. We put these online.
At this point, I thought we had found all the historic Oregon animation and cartooning figures there were to find.
I was wrong.
In the course of researching Oregon film history for the Oregon Sesquicentennial Film Festival, I stumble across George Bruns, a four time Oscar nominee for animated film scores, from Sandy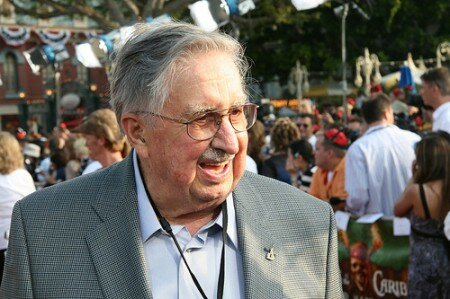 and Dennis stumbles across Ralph Wright, who won the Golden Bear in Berlin in 1957. He's from Grants Pass.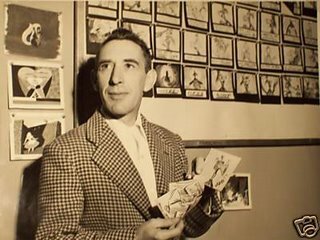 2009 in Portland
Third Oregon Cartoon Institute event: we co-sponsored Bill Plympton Day at the Oregon Sesquicentennial Film Festival at Marylhurst.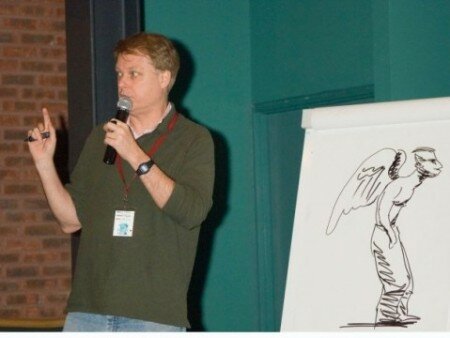 Bill is as fascinated with this history as we are.
Not all our research comes from history books. Some comes from the news. Just when we weren't looking, Brad Bird received first one, then two Oscars.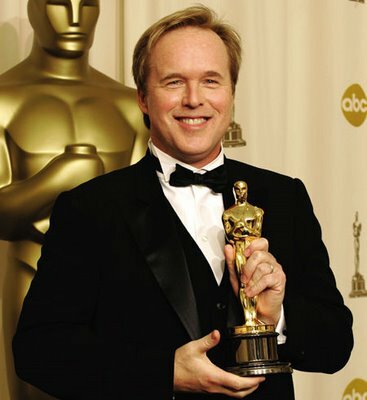 Looking ahead:
An interview about Oregon Cartoon Institute's next public event, which will take place in 2011, can be found online at KBOO.fm. Conducted by S. W. Conser as part of his Words & Pictures series, this interview introduces our first artist in residence, Heather Perkins.
Oregon Cartoon Institute is all about partnerships. As soon as the details get finalized, we will announce our upcoming partnerships with others who share our goal of raising public awareness of this state's rich animation and cartooning history.