Today's Oregonian contains a review of a new biography of Jim Thorpe, the incomparable world class athlete who came to Portland in 1922 to play baseball for the Portland Beavers.
While Kate Buford's publishers find her book, Native American Son: The Life and Sporting Legend of Jim Thorpe, " —long overdue and brilliantly told—of a complex, iconoclastic, profoundly talented man whose life encompassed both tragic limitations and truly extraordinary achievements", Oregonian reviewer Jim Strawn complains that "Despite her diligence, Buford gets things wrong."
The following appreciation of Jim Thorpe was created for The Portland That Was in 2006 by long time Thorpe fans, Dennis Nyback and Mack McFarland, using a clip from a Buster Keaton film from Nyback's archives. That's Thorpe, in the background, below.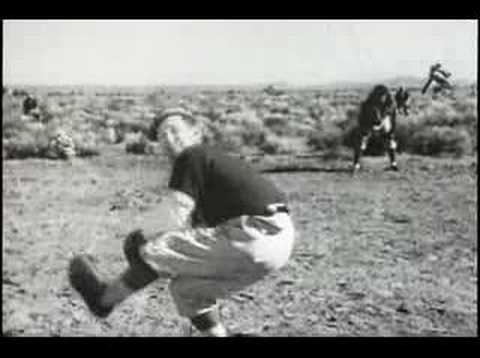 Thorpe's Hollywood career as an extra followed his retirement from the sports arena. Dennis theorizes that Buster Keaton, a huge baseball fan, gave Thorpe this role in One Run Elmer (1934) in part because of his respect for his past accomplishments.
To clarify: One Run Elmer was NOT made in Oregon. However this you tube video, which incorporates the One Run Elmer footage, was.
Thorpe played for the Beavers at their Vaughn Street ballpark (NW 24th & Vaughn) where the Esco plant now stands. The ballpark was built at the intersection of two commuter rail lines, and was designed to increase the sale of rail tickets, as well as promote the love of the game.