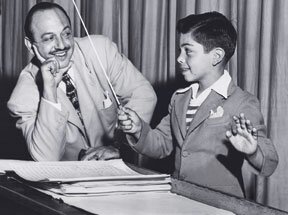 If you are interested in becoming part of the Mel Blanc Project, a great way to start is to come to the "Learn More About The Mel Blanc Project" screening series at The Waypost, 3120 N. Williams Avenue in Portland.
The series takes place every Tues night in February, at 7:00 PM.
Admission is by donation.
We will be talking about the project, and presenting programs of cartoons and films.
Feb. 1: Mel Blanc Sings
Dennis will show off Mel Blanc's musicianship and technical prowess with a program of cartoons in which Mel Blanc stays in character as he sings. Dennis will talk about the way these cartoons were made for adults, and were shown in theaters to a general audience. He'll talk about the way cartoons interpolate popular music, and spoof opera, and what those musical references meant to the audiences these cartoons were originally shown to. Thanks to Heather Perkins for suggesting we explore this topic.
Pickador Porky 1937 Mel Blanc's Warner Brothers' debut, as a singing drunk
Hamateur Night 1939 Mel voices various performers in this Tex Avery look at vaudeville
You Oughta Be In Pictures 1940 Mel sings opera as Daffy Duck
Porky's Midnight Matinee 1941 Mel sings as Porky
Daffy Duckaroo 1942 Mel sings cowboy songs as Daffy
Bugs Bunny Nips The Nips 1944 Mel sings as Bugs Bunny
The Goldbrick 1944 Mel sings straight, as well doing Pvt. Snafu's voice in this WWII training film
Russian Rhapsody 1944 Mel sings the famous I'm A Gremlin From The Kremlin
Feb. 8: Suppressed Mel Blanc
Dennis' most popular program. Some of these cartoons have been so successfully suppressed that you can't see them anywhere. For this screening, Dennis' intros will focus on Mel Blanc's voice acting. He'll also talk about the corporate self censorship which withdrew these films from circulation, and why he believes it is important that they still be seen.
All This And Rabbit Stew 1941 One of the Censored Eleven. Mel does Bugs Bunny. Dir. Tex Avery
Booby Traps 1944 Mel does Private Snafu. Dir. Bob Clampett
Tokio Jokio 1943 Wartime propaganda, now shocking in its un-funnyness. Mel in multiple roles. Dir. Norman McCabe.
Plus Mel in five other suppressed cartoons which cannot be named here.
Feb. 15: The Evolution of Bugs Bunny
Mel Blanc originated Bugs Bunny's voice, and was the sole provider of that voice for almost 50 years. Very hard to separate Mel Blanc from his favorite creation! Dennis will show cartoons documenting the chronological progression of Bugs Bunny from his first appearance throughout his heyday in the 40's.
A Wild Hare 1940 The first official Bugs cartoon, dir. by Tex Avery
All This and Rabbit Stew 1941, dir. by Tex Avery, one of the Censored Eleven
Fresh Hare 1942, dir. by Fritz Freleng
A Corny Concerto 1943, dir. by Bob Clampett
Hare Ribbin 1944, dir. by Bob Clampett
Bugs Bunny Nips the Nips 1944, dir. by Fritz Freleng
Herr Meets Hare 1945, dir. by Fritz Freleng
Southern Fried Rabbit 1953, dir. by Fritz Freleng
The Bugs Bunny Show 1963 Updated Bugs serves as host
Feb. 22: Vaudeville Deluxe, aka the Prehistory of Bugs
If you don't know what vaudeville was, this program will provide the answer. Dennis will show a full program of vaudeville acts from the 30's. Mel Blanc grew up watching these performers as a child. Later he worked as a musician in the pit orchestra of Portland's Orpheum vaudeville theater. When vaudeville moved to radio, Mel Blanc went right along with it.
Vaudeville Deluxe is one of Dennis' most popular programs. Some Portland New Vaudevillians will be invited to come as unofficial guest speakers.
Gus Visser and His Singing Duck Ma She's Making Eyes at Me 1925
J. Harold Murray sings The Ranger Song c1927
Two College Boys Duke Atterbury Ken Gillum c1929
The Old Fashioned Way (1934 excerpt) W.C. Fields, juggling
Vitaphone Frolics (1937)
Stanley Brothers
Jack and Loretta Clemens
Zeb Carver and His Cousins
The L.I.M.E. Trio Golliwog
The All-Colored Vaudeville Show (1935)
Eunice Wilson and the Five Racketeers
The Three Whippets
Adalaide Hall with Joe Turner
The Nicholas Brothers
That Goes Double (1933)
Russ Columbo
The Three Cossacks (Roller skaters)
Bernice and Emily (Staircase acrobats)
Roy Smeck (Plays the hell out of ukulele)
Smash Your Baggage (1933)
Entertainers From Small's Paradise
Elmer Snowden
Roy Eldridge
Dickie Wells
Rubberlegs Williams
Vitaphone Gambols (1937)
A.B.C Trio
Masters and Johnson
Chaz Chase
Elaine Dowling
Tip Top Girls
His College Chums (1928)
Eddie Peabody
Hal Kemp and His Orchestra
The Mel Blanc Project is a great way to learn more about Portland history, get some experience in arts education and administration, and check out the world of non-profits. Come meet us at The Waypost, and find out if you would like to join the team.
We are a volunteer organization and we are looking for volunteers.
Oregon Cartoon Institute was founded by Anne Richardson and Dennis Nyback in 2007 to raise awareness of Oregon's rich animation and cartooning history. We are fiscally sponsored by the Oregon Cultural Heritage Commission, a 501 (c) (3) non profit organization.