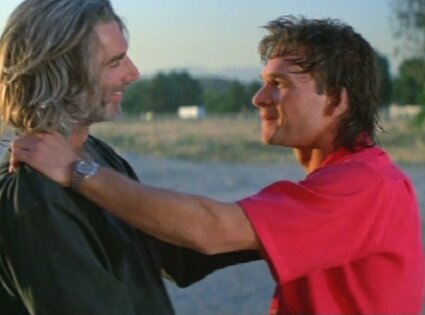 In Point Break, Patrick Swayze gives advice.
In Road House, he gets it – from Sam Elliot, graduate of David Douglas High School, Class of 1962. Young Sam studied theater at Clark Community College in Vancouver, Washington before heading south to Hollywood to sidle into movies via television. In Road House, twenty years into his career, he plays Wade Garrett, the Jiminy Cricket to Swayze's Pinocchio.
If, like me, you haven't ever seen Road House you can do one of two things. You can see it or you can go see what Meagan Kate, Courtenay Hameister, Ted Douglass, Sean McGrath, Nicholas Kessler, Karate McQueen, Rob Campbell, Michael Fetters, Shelley McLendon, Kate Piatt-Eckert, Scott Engdahl, Tony Marcellino, Wm. Steven Humphrey, and Brad Fortier ( pictured below) have done to it.
Road House: The Play! opens May 8 at the Ellyn Bye Studio in the Gerding Theater at the Armory, located in the Pearl District of Portland, Oregon. Here's where you can get more info (plus tickets).
Road House: The Play! returns in May 2011 after sold out runs and rave reviews in 2010.


First released as a film in 1989 and starring the late Patrick Swayze, Road House tells the timeless tale of a bar bouncer with a mysterious past who lives by his own rules, a small town terrorized by a wealthy senior citizen, a sexy doctor, and karate. Road House: The Play! is the magic that results from taking the original film script, putting it on stage, and adding original songs.


Created by Shelley McLendon
Adapted to the stage by Shelley McLendon and Courtenay Hameister, aka The Witty One
Directed by John Breen
I hereby claim Road House as an Oregon film, based on the Portland origins of Sam Elliott.