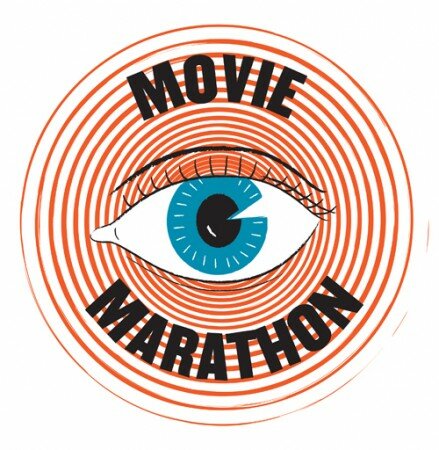 Oregon Movies, A to Z contacted the Northwest Film Center to find out more about their upcoming fundraiser to benefit the School of Film's scholarship program and to preserve the Center's 16mm projection capabilities.
Thomas Phillipson described it as a 12-hour smorgasbord of epic 35mm cinematic entertainment featuring host Sean McGrath of Live Wire and Sweat fame, plus special guests Dan Halsted and Cort and Fatboy, film trivia, live performances, and more than a few surprises.
Since festivities begin at noon and extend to midnight, I had some questions:
Oregon Movies, A to Z: Are people allowed to call out for pizza?
Thomas Phillipson: One of the reasons we chose McMenamins Bagdad Theater — besides their capacity for 35mm — was for the ample availability of tasty sustenance for the marathoners. Carbo-loading on pizza and beer is not only allowed, it may well mark the difference between finishing and a life of shame.
Oregon Movies, A to Z: Has the NW Film Center ever done this before?
Thomas Phillipson: While the Film Center has screened long films, we have never before set out to break our audience. We were tossing out ideas for ways to celebrate the Northwest Film Center's 40th Anniversary, this one stuck as the time seemed right. If all goes well, this could be an annual thing.
Oregon Movies, A to Z: How does a person use the marathon to raise money for the NW Film Center?
Thomas Phillipson: The best way to help is to sign up by following the link on our web site and create a fundraising page for yourself. Then tweet and post and e-mail to all your generous friends and relations asking them to sponsor you. They can donate in your name online very easily.
The entry fee for the Marathon is $40 so if you get at least that much in donations, you'll have a ticket. ( Ed. note: This means you get in free!) If you just want to buy a ticket for $40, you can do that too.
Oregon Movies, A to Z: Is it true there are prizes?
Thomas Phillipson: Lots of them. Raffle prizes, trivia contest prizes and we're working on some huge prizes for the top fundraisers.
Other important information:
40TH ANNIVERSARY MOVIE MARATHON FUNDRAISER
All proceeds to benefit the Northwest Film Center
Saturday, January 21, 12:00 pm – 12:00 am
McMenamin's Bagdad Theater, 3702 SE Hawthorne Blvd.
Film line-up:
SUNSET BOULEVARD
DIRECTOR: BILLY WILDER | US, 1950
Gloria Swanson is a former silent film star who's ready for her closeup.
THE LAST WALTZ
DIRECTOR: MARTIN SCORSESE | US, 1978
Martin Scorsese's classic music documentary chronicling The Band's last concert.
THE LAST PICTURE SHOW
DIRECTOR: PETER BOGDANOVICH | US, 1971
Jeff Bridges and Cybill Shepherd are high schoolers in a small Texas town in the 1950s.
THE PRINCESS BRIDE
DIRECTOR: ROB REINER | US, 1987
"As you wish," "inconceivable," "I am Inigo Montoya…"–come recite the classic lines with us.
DARKMAN
DIRECTOR: SAM RAIMI | US, 1990
By day, Liam Neeson is a wronged scientist; by night, he is Darkman, seeking revenge.
SPECIAL SURPRISE SCREENING
Special guest Dan Halsted presents this special, surprise 35mm selection from his private collection…