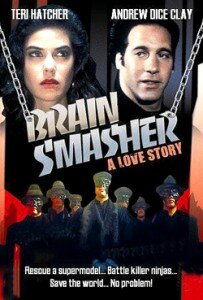 On Sunday, Dec 4, at 7:30 PM, filmmaker/film writer/film historian David Walker comes to the Hollywood Theatre to present an evening devoted to B movies made in Oregon.
A long time friend and colleague of Oregon Movies, A to Z, it was David who expressed concern when I first began my chronological tour of Oregon film history, warning me that I would have to watch Homer and Eddie, starring Whoopi Goldberg, and Brain Smasher, starring Andrew Dice Clay. I have yet to see either of those films – I expect David may show clips from them at this event.
Oregon's rich film history encompasses wonderful A list directors (James Ivory, Gus Van Sant, Brad Bird), up and coming young Turks (James Westby, Aaron Katz, Chel White), world class animators (Bill Plympton, Matt Groening, Mark Gustafson), a burgeoning documentary scene (James Longley, Peter D. Richardson, Brian Lindstrom) — all these achievements in one cinematically fertile state. What David will address in this evening at the Hollywood is none of the above. This is the night to come learn about the movies made in Oregon that are terrible, tasteless, jaw droppingly unambitious and/or just plain bad.
David's particular interest lies in the history of Portland indies, so it is possible this evening will lean towards indie B films made here by PDXers.
Here's the info:
Made in Oregon Presents: A Retrospective of PDX B-Movies

Hosted by David Walker

Sunday, December 4th at 7:30pm I Tickets $7

When most people think of independent films produced in Portland, they think of movies like Gus Van Sant's Drugstore Cowboy and James Westby's Film Geek. But what about Tom Shaw, "the Ed Wood of Portland," and his film The Courier of Death? What aboutRockaday Richie and the Queen of the Hop, the first locally produced feature film to get international, theatrical distribution? What about Fatal Revenge, Unhinged, Brainsmasher, Iron Heartand all the other long-forgotten B-movies made in Portland? Join local critic, historian, and filmmaker David Walker as he hosts a one-night-only showcase of films made in Portland, but seldom seen by the public. It will be an informative and entertaining night of both art and schlock, as Walker presents a collection of trailers, clips and personal commentary highlighting the Best and Worst of PDX B-Movies.