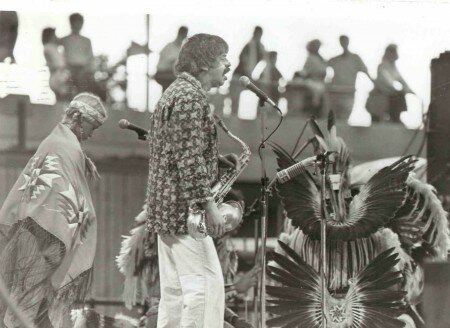 Sandra Osawa kicked off the trend with Pepper's Pow Wow, her profile of Jim Pepper, in 1996. Since then there's been a steep increase in the number of films about Oregon artists.
Mel Blanc, Mel Blanc: The Man Of 1,000 Voices (2008)
Walt Curtis, Salmon Poet (2009), Walt Curtis: Peckerneck Poet (1997)
Ken Kesey, Magic Trip: Ken Kesey's Search for a Kool Place (2011)
Morten Lauridsen, Shining Night: A Portrait of Composer Morten Lauridsen (2012)
Henk Pander, Painted Life (2005)
Bill Plympton, Adventures In Plymptoons (2011)
Jim Pepper, Pepper's PowWow (1996)
Elliott Smith, Heaven Adores You (2014)
Gary Snyder, The Practice Of The Wild (2010)
William Stafford, Every War Has Two Losers (2011)
Docs in progress: James Blue, Richard Brautigan, Ursula LeGuin, Homer Davenport
Ones I'd like to commission: James Ivory, Johnnie Ray, Jane Powell, PhiI Moore, Curtis Salgado, Doc Severinsen, CarI Barks, BasiI WoIverton, WiII Vinton
While we're waiting for a documentary about Johnnie Ray, here's a 1953 film which spoofs him, about a pop singer who is suspiciously similar to Ray.
Please send in ones I have missed!