"In theory, the project may strike some as perverse, like having Charles Bukowski pen the script for a remake of "It's a Wonderful Life." Reed Johnson, in the LA Times
From June 12, 2020 to Sept. 19, 2010, the original pen and ink drawings made by R. Crumb for his latest work, an illustrated Book of Genesis, will be on exhibit at the Portland Art Museum.
You can see Crumb talking about this project with Francoise Mouly last fall. He explains that he was inspired by The Story of Man, an illustrated Bible series drawn by Basil Wolverton for the Radio Church of God's magazine The Plain Truth , and that he adopted Wolverton's approach, which was to use the complete biblical text, with no editing.
Here's a page of Wolverton's The Story of Man, which he began drawing in 1958.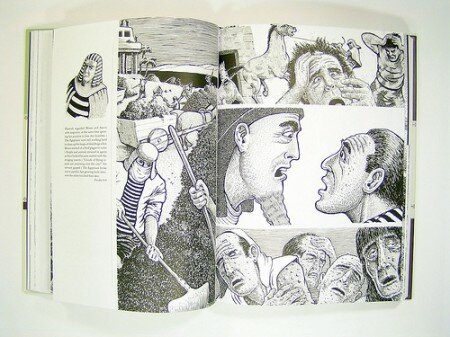 Basil Wolverton ( 1909 – 1978 ) was born in Central Point, Oregon. He conducted his national career as an cartoonist and illustrator entirely by mail, from Vancouver, Washington. Hmmmm, perhaps that's another influence. Crumb now conducts his career from the south of France.
Here's Wolverton's thumbnail bio of himself: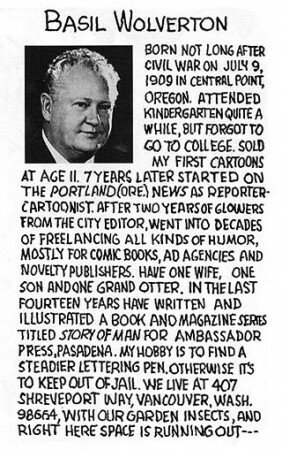 Strange but true: Basil Wolverton is one of two Oregon cartoonists much beloved by Crumb. Carl Barks, the auteur behind the Donald Duck comic books, is the other.
This post brought to you by the Oregon Cartoon Institute.