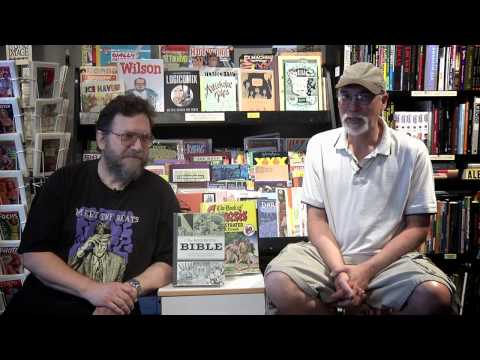 Strange but true: The legendary underground cartoonist Robert Crumb cites two Oregon artists, Carl Barks and Basil Wolverton, as crucial early formative influences. Yet no one ever asks him to be more specific. Just how did Disney comic book auteur Carl Barks and Mad Magazine illustrator Basil Wolverton influence the creator of Mr. Natural and Fritz the Cat?
Oregon Cartoon Institute asked Patrick Rosenkranz, the author of Rebel Visions: The Underground Comix Revolution, 1963 – 1975, and Charles Boucher, the owner of CounterMedia, to walk us through the specific aspects of Barks' and Wolverton's work which Crumb incorporated into his own. Karl Lind captured this avalanche of Crumb scholarship in the above video.
Readers of Oregon Movies, A to Z already know Crumb's Book of Genesis, currently on display at Portland Art Museum, was directly inspired by Wolverton.
Reminder: You have until September 19, 2010 to see rooms and rooms of original artwork by Robert Crumb at Portland Art Museum. His entire Book Of Genesis is there – the original hand drawn, hand lettered artwork — making it possible for you to walk, page by page, throughout the first book of the Bible.