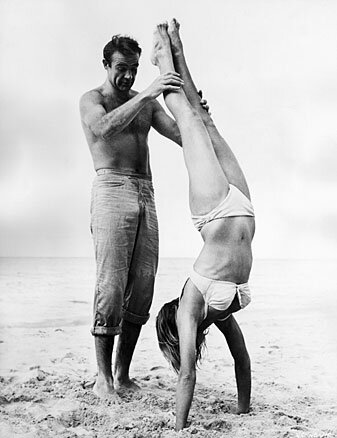 For people who like contemplating how international Oregon's film history really is – here is my Christmas present to you: a list of directors who came from afar to the big scenic back lot we call home to make movies. I include the photo of Sean Connery teaching a handstand because that is the way I sometimes feel myself. I want to turn you upside down. No, Oregon film history is not an endlessly excruciating list of mediocrities. Yes, I think we have a legacy we can learn from.
So, to balance out the post documenting the fondness Europeans have for Oregon directors, I compile here a list of directors from other countries who chose Oregon as the location for their films.
Germany: F. W. Murnau, City Girl (1930)
France: Jacques Tourneur, Canyon Passage (1946)
Hungary: Andre De Toth, Indian Fighter (1955) & Day Of The Outlaw (1959)
England: J. Lee Thompson, MacKenna's Gold (1969)
Czechslovakia: Milos Forman, One Flew Over The Cuckoo's Nest ( 1975)
Scotland: Bill Forsythe, Breaking In (1988)
Canada: Ivan Reitman, Kindergarten Cop (1990)
Australia: Simon Wincer, Free Willy (1993)
Germany: Uli Edel, Body Of Evidence ( 1993)
To be clear – there are some turkeys on this list. But I will leave you the fun of sorting out which movies you like, and which you would like to disown.
In the literary category: these directors stayed home, but adapted works by Oregon authors.
Russia: Sergei Eisenstein, Oktyabr (1928) based on John Reed's Ten Days Which Shook The World
Japan: Goro Miyazaki, Gedo Senki (2006) based on Ursula LeGuin's Tales of Earthsea
I am sure there are more! I am especially interested in foreign directors who have adapted Oregon authors, so please let me know if there is a film which should be on this list.