Mel Blanc is the featured hiccuper. Del Porter, the tall man who leads the singing at the beginning, is a fellow musician who came to LA from Portland at the same time as Blanc.
The Soundie machine is used in this soundie as a frame to display the lyrics for the audience to sing along. In real life, this frame is where you would see the soundie itself.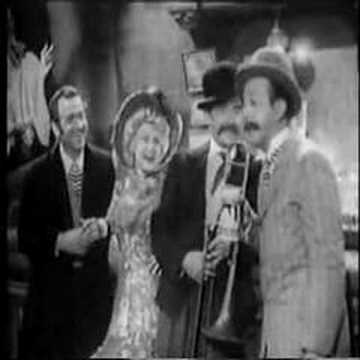 This soundie contains two rare visual referents – a Soundie machine and Mel Blanc himself. Soundies were short music films shown on a machine like a jukebox. Soundie machines were equipped with a screen, so when you put in your quarter, you both heard a song and saw it. You couldn't make selections – you just took whatever was up next in line. The films were just that, actual 16mm films, each one spooled on its own reel. The image was projected onto a mirror inside, and reverse projected onto the screen.
Mel Blanc worked offscreen as Hollywood's most prolific voice artist, so footage of him performing is not easy to find.