Courtney looks a little impatient in this picture, as if she knows she is just a few months away from her New York film debut in Sid and Nancy. Taken in 1986, Courtney Michelle Harrison was three years away from starting Hole, five years away from marrying Kurt Coban, and ten years away from playing Mrs. Larry Flynt in Milos Forman's The People Of The United States Vs Larry Flynt.
When Courtney said "I surrounded myself with women when I was growing up because I had this horrible psycho father", maybe she was thinking of these women, in this booth, on that night.
From Willamette Week's wonderful obituary of Satyricon, the nightclub in which that booth was located:
GEORGE TOUHOULIOTIS: I had an interest in the culture of the music. Not in the music, per se, but what the bands represented. That was the beauty of the punks: They were real, I thought. In the late '70s and early '80s, it was a fantastic movement. The times were very fresh. I think there's nothing more beautiful than freshness. I think God loves freshness; he hates repetition.
Q: Who's George Touhouliotis?
A: The proprietor, the brains and heart behind Satyricon.

This period portrait of George, hard at work, was taken by Sean Fong.
Here's Satyricon on Halloween, another portrait by Sean Fong.

I wonder if George ever thinks about the impact he, and his club, had on one young, ambitious girl's evolving artistic sensibility:
GEORGE TOUHOULIOTIS: This idea evolved about the place that if we go there, we have to break something or do something nasty, because that's the nature of the place. As much as I really wanted to get rid of that aspect, it seemed like it was always there: the fights and the drugs. But it's rock 'n' roll; it's rebellious. You have to allow a certain amount of emotion to come out. So, to a certain extent I understood it. You can't have a castrated audience to watch a rock-'n'-roll show—the blood is boiling, and I saw the value of that. That's fine. That's human.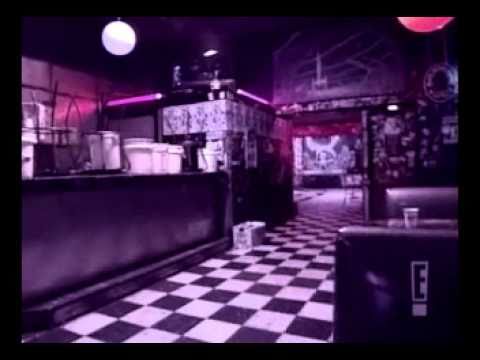 Portland gave Courtney Love stripping, reform school and Satyricon. A classic lillypadder, she made the most of all three.