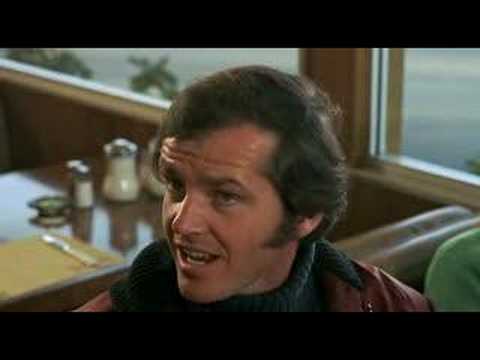 I always thought this scene was shot on the Oregon Coast, and wondered where.
Katherine Wilson clears up the mystery, and supplies an exact location.
Not on the Coast!
He was here in Oregon in the 60's; in the town that Stan Brakage called "the Poetic Cinema Capitol of the World, Eugene, Oregon." He arrived on the scene like his character in "One Flew Over the Cuckoo's Nest:" Randall Patrick McMurphy, to tell us we weren't crazy, to legitimatize what we were trying to do with our 16mm cameras, and over the years, to help us get a break in the business.

My friend Ron Vidor, a Cinematographer who worked as a cameraman on "Five Easy Pieces" said that in 1969 Jack and the rest of the cast and crew were just traveling through on I-5, when Director Bob Rafelson saw the Eugene Denny's Restaurant. Within minutes they had permission from the manager to shoot the classic "chicken salad sandwich" scene with Karen Black and Lorna Thayer, the Waitress. More…..
Thanks, Katherine! We needed that.
Now if we can just ascertain if Ron Vidor is related to King Vidor, we'll be golden.