Is there something about Oregon's geographic isolation which inspires artists to dumpster dive and recycle art? Nevermind the Bronx beginnings of remix culture in hip hop; there is plenty of repurposing going on here in the Northern Left Coast.
Witness Bobby "Fatboy" Roberts, Portland radio wit and sometime film critic, who has remixed " a decade's worth of ruined pop-culture memories".
Witness Bruce Conkle's and Marne Lucas' Warlord Sun King: The Genesis of Eco Baroque.

Yes, that's Marne and Bruce, surrounded by flattened tin foil and a thrift store frame.
And now witness the permission Gus Van Sant gave James Franco to cut together outlakes, deleted scenes, alternate takes and behind the scenes footage from My Own Private Idaho to create a 12 hour installation, Endless Idaho, which is up until April 9 at Gagosian Gallery in Los Angeles.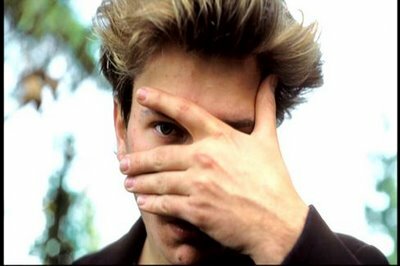 Also in the gallery: paintings by Gus Van Sant, and a second remix of My Own Private Idaho footage by Franco, titled My Own Private River, which concentrates on River Phoenix.
Endless Idaho/My Own Private River is Franco's third Van Sant collaboration. Van Sant directed him in Milk, he starred in Howl, which Gus Van Sant executive produced, and now Franco has emerged from the editing room,where he had locked himself up, like Rumplestilskin, with all the parts of My Own Private Idaho we never saw.

How fitting because My Own Private Idaho is itself a magpie's nest of appropriation and repurposing. Drawing on the B-52's for his title and Shakespeare for his plot, Van Sant remixed two of his own unproduced screenplays into one heartbreaking romantic tragedy. Shawn Levy marvels at Van Sant's eye for location as he peopled an imagined city with a mix of real Portlanders (including Tom Peterson, Tom Cramer and some real street hustlers), and Hollywood leading men, one of whom was giving the performance of his career.

Call it remix or collaboration: Gus likes it. It is his secret weapon as a director. The work of Fatboy, Bruce Conkle and Marne Lucas indicates he may be expressing a regional tendency.