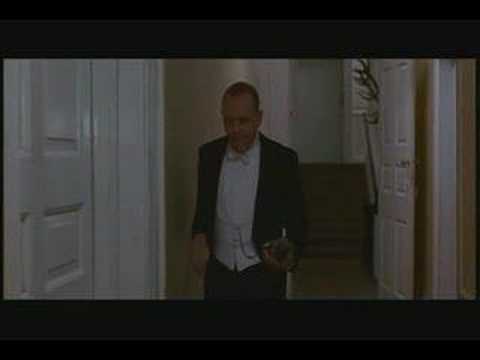 I am "not qualified", in the words of Mr. Stevens, to pass judgement on Remains Of The Day, because, as a WASP, I feel personally responsible for all the emotional and sexual repression which transpires in it. This is my tribe. We came to America for a second chance.
Judge for yourselves whether we deserved one.
Remains Of the Day follows on Merchant Ivory's successful pairing of Anthony Hopkins and Emma Thompson in Howard's End. Many regard this story of a butler who comes to question the way he has spent his life as the pinnacle of the Merchant Ivory collaborations. I am too deeply sorrowed, and ashamed, by the actions of everyone in it, downstairs and upstairs, to have an opinion one way or the other.
This character study of an English butler was written by Kazuo Ishiguro, from Japan, adapted by Ruth Prawer Jhabvala, from Germany, produced by Ismail Merchant, from India, and directed by James Ivory, from Klamath Falls.
It received eight Oscar nominations, including Best Picture, Best Director, Best Actor in a Leading Role, and Best Actress in a Leading Role.
I hereby claim Remains Of The Day as an Oregon film, on the basis of James Ivory's contribution as director.