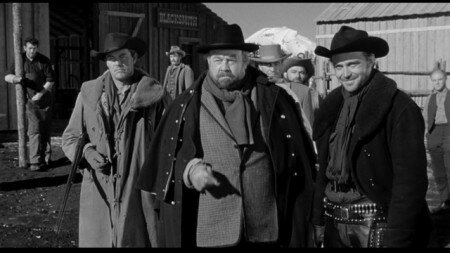 What happens in a Western where there are no open spaces? Jacques Tourneur contemplated this question in Canyon Passage. Andre de Toth takes it on in Day Of The Outlaw, in which Jack Bruhn (Burl Ives), a self loathing West Pointer gone wrong, finds himself policing the small town he and his gang are using as a hideout.
Set in deep winter, Day Of The Outlaw has a reputation as being cowboy noir, but I think of it more as a horror film. Its all about being afraid. As nasty as the human beings are to each other, De Toth makes it clear that its what's outside the door — in this case, snow — that is going to get us in the end.
Robert Ryan is the purported star, but Burl Ives steals this picture handily. See it for him! Yes, that's Tina Louise (from Gilligan's Island) playing the married woman Ryan wants all to himself. Further boomer alert: that's David, not Ricky, Nelson.
I learned about Day Of The Outlaw from Rob Lawson, who sent Oregon Movies, A to Z this recommendation.
Day of the Outlaw was overlooked when it was released in 1959, which was a fairly good year for movies. Ben-Hur was the top attraction; North by Northwest, Anatomy of a Murder, The Diary of Anne Frank, The Nun's Story, Pillow Talk and Some Like it Hot were all released that year. The top Westerns were Rio Bravo and The Horse Soldiers (actually a Civil War film), so it is easy to see why a somber black-and-white offering didn't attract much attention.
Thank you, Rob!
I hereby claim Day Of The Outlaw as an Oregon film, based on location shooting around Mt. Bachelor.