Last year, Oregon was represented at the Oscars by Coraline and The Fantastic Mr. Fox, both films animated by artists trained by Will Vinton, at Will Vinton Studios here in Portland. This year, Bill Plympton decided to keep Oregon animation in the spotlight by making sure his internationally acclaimed, multi-award winning Idiots and Angels was eligible for an Oscar nomination.
Here's the story in Bill's own words.
I believed in the film enough to try for an Oscar nomination.

So, without a distribution deal in place, I decided to handle the release myself. Now this isn't the end of the world, in fact there are some positive aspects of self-release. But let me first list the negative points:

1. I had to lay out a lot of money for prints and trailers.

2. I had to hire press agents.

3. I produced posters and postcards myself.

4. I called all my press friends begging to get any kind of interview or articles.

5. I organized street teams of students to canvas the city.

6. I booked myself in every art school I could think of to give me a Master Class, to make the schools aware of the screening.

However on the positive side, here are the benefits of self-distribution.

1. The rights to the film remain in my hands, thus I can control when it's released how it's released, and where it shows. And if I want to rerelease it, it's my decision.
2. All the money, if there is money, comes directly to me.

3. I get to control the images and style of the release. I can talk directly to my audience.
Idiots and Angels' run at the IFC theater in New York, which began Oct.6, now has been extended to Oct. 21.
Congratulations, Bill! For all you Academy members out there, here's the screening times:
Wed, Oct 13 at: 1:00 PM, 2:45 PM, 4:40 PM, 6:40 PM,8:40 PM, 10:35 PM
Thu, Oct 14 at: 1:00 PM, 2:45 PM, 4:40 PM, 6:40 PM,8:40 PM, 10:35 PM
Fri, Oct 15 at: 1:05 PM, 4:40 PM, 8:25 PM
Sat, Oct 16 at: 1:05 PM, 4:40 PM, 8:25 PM
Sun, Oct 17 at: 1:05 PM, 4:40 PM, 8:25 PM
Mon, Oct 18 at: 1:05 PM, 4:40 PM, 8:25 PM
Tue, Oct 19 at: 1:05 PM, 4:40 PM, 8:25 PM
Wed, Oct 20 at: 1:05 PM, 4:40 PM
Thu, Oct 21 at: 1:05 PM, 4:40 PM, 8:25 PM
The IFC Theater is at 323 Sixth Avenue, Greenwich Village, New York. Yes! You are correct. It is located on the site of the historic Waverly Theater, just off the southwest corner of Washington Park.
Q: What is Bill Plympton's Idiots and Angels about?
A: New York Magazine sez: In the animation icon's ambitious, hilariously demented moral fantasy, a selfish businessman discovers angel wings growing out of his back and finds his crass impulses suddenly at odds with a newfound, unwelcome desire to do good.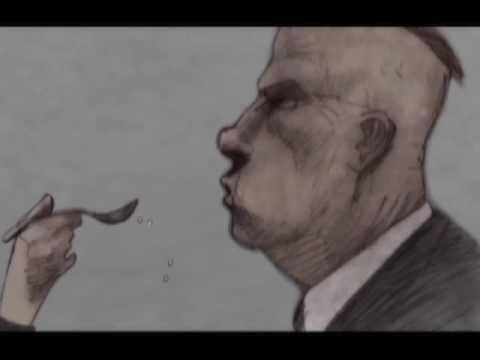 This post brought to you by the good people at Oregon Cartoon Institute.