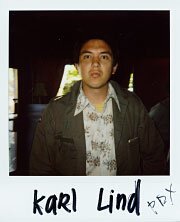 Portland turned Karl Lind into a filmmaker, and he has returned the favor by contributing on every conceivable front to Portland's burgeoning film scene.
Crewing for Portlandia? Check.
Curating for the Odds and Ends series at ATA? Check.
Winning acclaim for his experimental filmmaking? Check.
Co-founding Grand Detour? Check.
Making short, superb videos for Portland non-profits? Check.
In wearing all these hats, Lind is taking after one of his Portland indie filmmaking forebearers – Will Vinton. When Vinton was starting out, he combined working on local commercials and local industrial films with directing his own, more personal, projects. I asked Will once if he worked on his own projects to keep from being bored with his other, more conventional, gigs. "I was never bored!" he said. "I was learning from everything I did. No matter where the project came from, I would learn something new."
Read more about Karl Lind here. Or visit Grand Detour's website:
"a destination for national and international touring filmmakers and curators. We are planting the seeds towards our larger goal of becoming Portland's hub for innovative video and media related artworks. Grand Detour is a haven for underground artists, digital methods classes, installations, and community discourse."