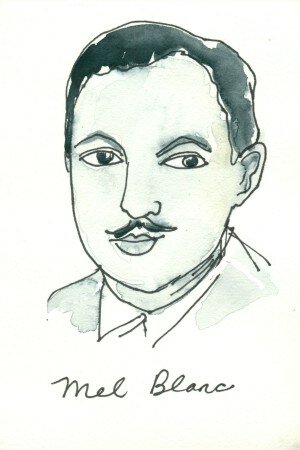 Artist Carye Bye provided the above portrait of the great artist whose career we will be exploring, and whose Portland life and influences we will be discussing, in the upcoming Mel Blanc Project.
The project is a partnership with Oregon Jewish Museum, which is opening a Mel Blanc exhibit in May 2011, and Ethos Music School, which is providing the venue for a live concert in June 2011 of original electronic music inspired by Bugs Bunny and composed by OCI artist in residence, Heather Perkins.
More information about the project, including the four part Mel Blanc lecture series, organized by Anne Richardson and Dennis Nyback, will be found here on Oregon Movies, A to Z, and at the Mel Blanc Project blog.